Pomfret fish is one of the most popular seafood. Pomfret fry easily finds a place on my 'Favourite Fish' list, more so if it's prepared the way my mother makes it. This pomfret recipe is one that I will cling on to and relish for years to come. You can always choose to grill the pomfret in an oven instead of frying it. Some preparations include coating the fish with either rice flour or semolina to make the fish crispier. A dash of spring onions slightly sharpens the taste as you gorge on this delicacy.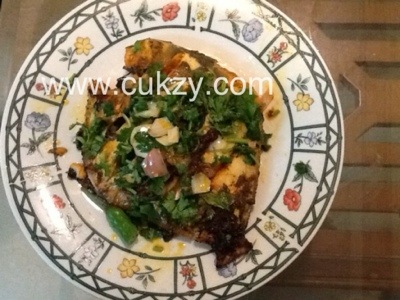 Ingredients:
1 medium/large pomfret
2 tsp lemon juice
1 tsp garlic paste
2 1/2 tbsp hung curd
2 tbsp tandoori masala
1 tsp red chilli powder
1 tsp mustard oil
½ onion, chopped
2 tbsp coriander leaves, chopped
Oil for frying
Salt to taste
Method:
1. Wash and clean the fish. Make fine incisions/cuts across the fish. Rub the fish with salt and lemon all over.
2. Apply the garlic paste all over the fish.
3. In a bowl, mix the hung curd with the tandoori masala and red chilli powder. Make sure the water from the curd has been completely drained.
4. Apply this tandoori masala mixture to the fish generously. The pomfret should be completely covered in the masala. Pour a teaspoon of mustard oil on both sides. Leave aside to marinate for half an hour to one hour.
5. Heat oil to shallow-fry in a non-stick pan. Place the pomfret on the pan and allow frying on low to medium heat. Fry till the fish has browned on both sides, about 15 to 20 minutes.
6. Once done, keep the pomfret aside. In the same oil, throw in the onions and sauté on high heat for ten minutes.
Serve the pomfret garnished with coriander leaves, sautéed onions, and sprinkled lemon juice.