Kathi roll is one of the Indian street foods I really miss, especially when I remember my good old time in Bangalore. Kathi Rolls are commonly knows as frankie. Chicken kathi roll is the perfect 'to-go' food and a certain crowd pleaser during Ramadan. It has an entire meal rolled up – parathas, egg, salad, and stuffing – non-veg or veg. Chaat masala plays a really important role to flavor up the kathi roll. You can season your roll with chilli sauce, coriander-mint chutney, or even plain ketchup. You can add in your own salad ingredients as well although onions is the traditional way to go.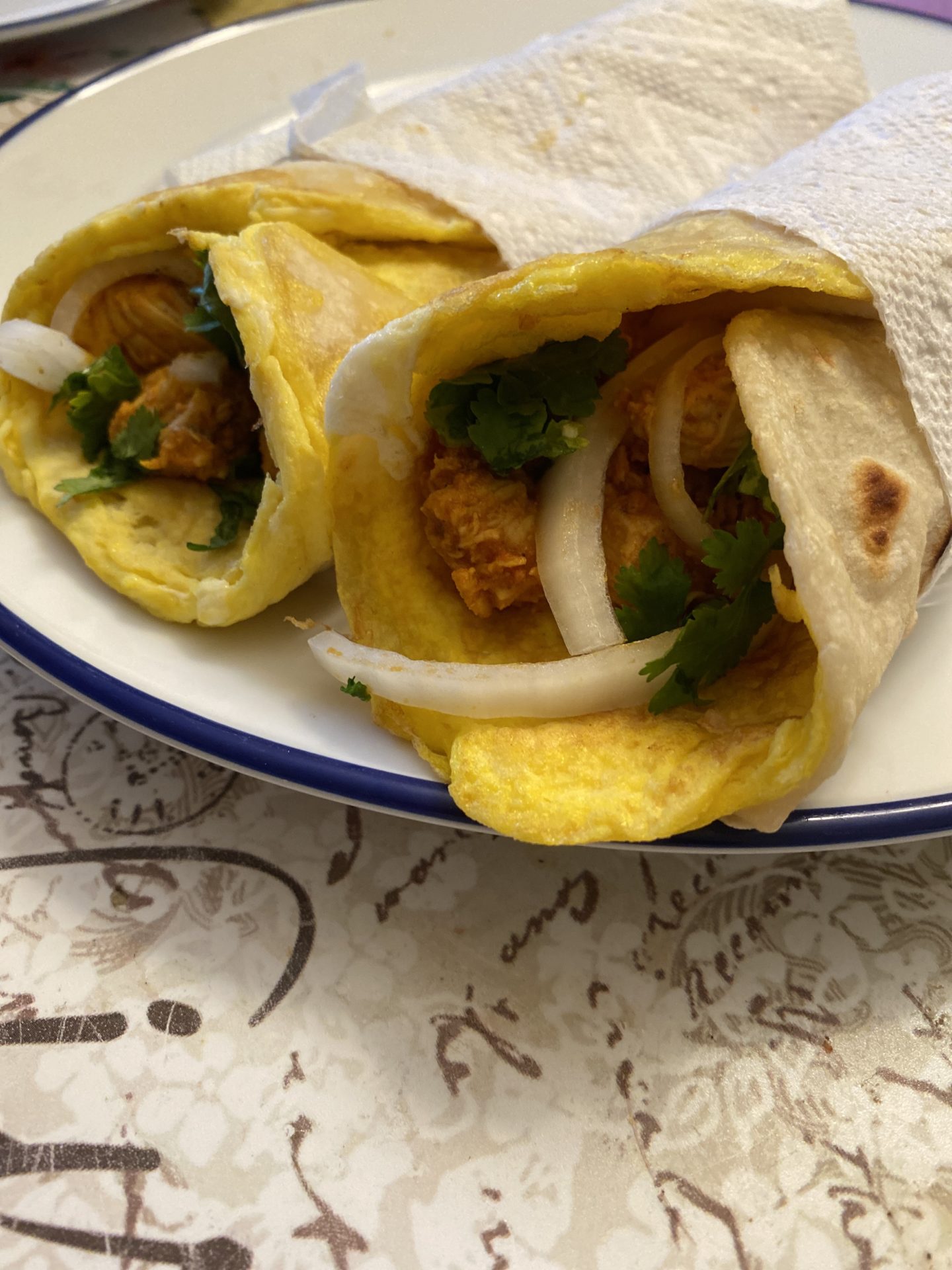 For Kathi Roll Paratha / Flatbread

1 1/2 cup all-purpose flour (maida)
1 tsp oil
Salt to taste
Water to knead
5 eggs (1 egg for each paratha)

Method:

1. Add the flour and the salt in a clean, dry bowl. Pour the water little by little and mix with your hands. Knead till all the flour has combined into a smooth dough and no longer sticks on your fingers. Add the 1 tsp oil and knead agains to soften the dough further. Cover and keep aside for 15 minutes.

2. Divide the dough into equal potions. Roll each dough into a flatbread of about 8 inches. The dough makes about 5-6 kathi rolls depending on the size of the parathas you would like.

3. Heat a flat pan on medium heat. Place one paratha on it and fry. Brush oil on each side. You'll know your paratha is ready when you notice brown bubbles forming on each side. Fry all the parathas and keep them aside.

4. Grease the flat pan and heat on medium. Place the cooked paratha on the pan. Crack an egg on top of the paratha. Gently flip it to allow the egg to cook and stick to the parathas. Alternatively, you can lightly beat the egg in a bowl and pour it over the paratha and flip it to cook the egg. Whatever works for you.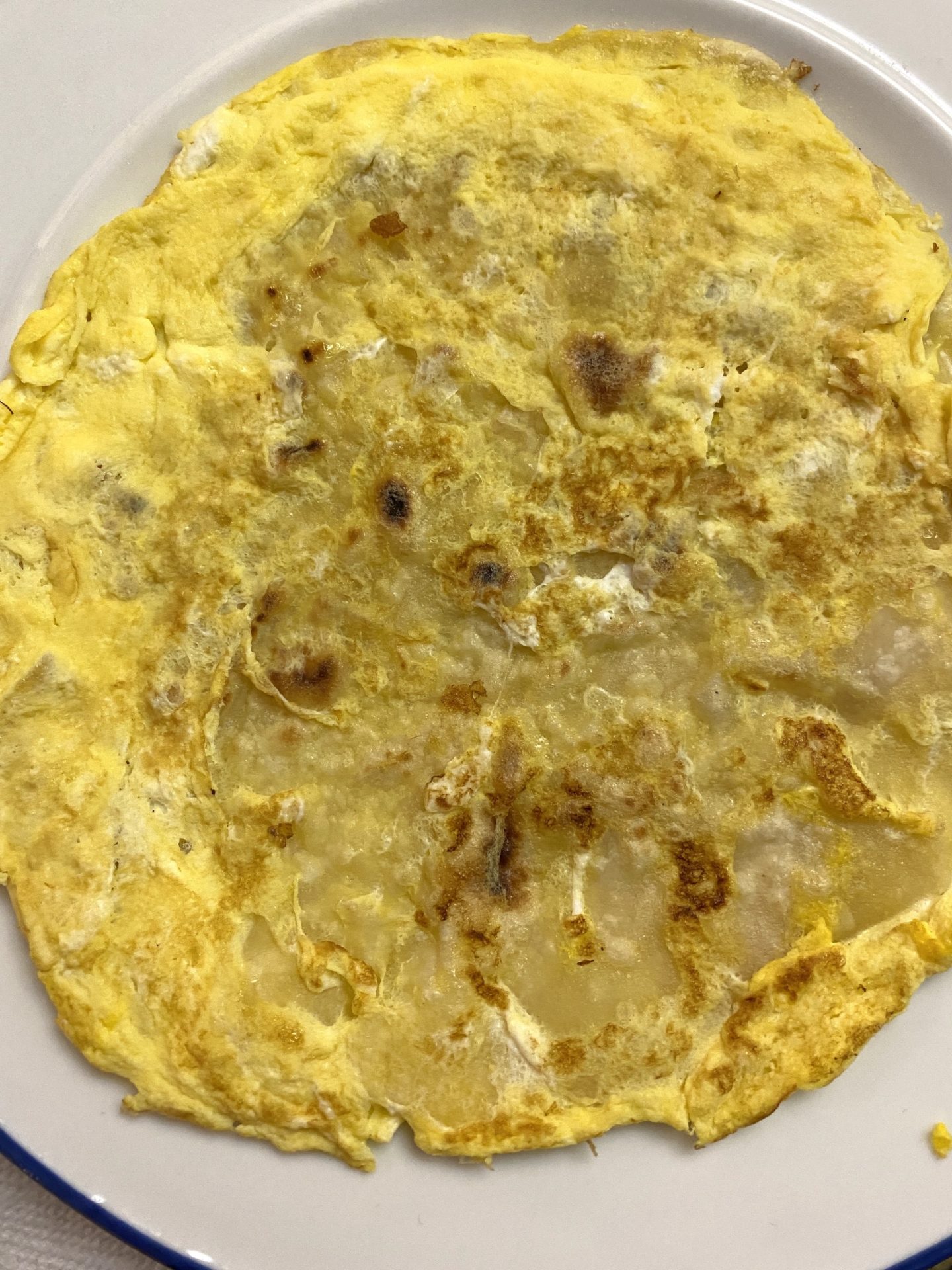 For The Chicken Kathi Roll Stuffing

500 grams boneless chicken, cut into 1/2 inch chunks
1/2 tsp cumin powder
1/2 tsp coriander powder
1/2 tsp garam masala
1/2 tsp chaat masala
1/2 tsp red chilli powder
1 tsp tandoori masala
1/4 turmeric powder
1 tsp ginger-garlic paste
1 tsp lemon juice
1 tbsp yogurt
1/2 tbsp tomato paste
Oil for shallow frying

Method:

1. Marinate the chicken with all ingredients except the oil and tomato paste. Leave aside for 15 minutes.

2. Heat oil in a saucepan and add the chicken. Fry the chicken for 10 minutes, stirring occasionally. Then add the tomato paste. Mix everything well, cover, and cook the chicken completely. When the chicken has cooked and all the water has dried out, keep aside.

Assembling:

1. Place spoonfuls of chicken stuffing on the kathi roll paratha. Place thin onion slices and chopped coriander on the chicken. Sprinkle a teaspoon of chaat masala. You can also drizzle with any chutney or sauce you like. Roll up the paratha and wrap it with a kitchen towel, cling foil, or a wax paper. You can also seal it with a toothpick.