This is a dessert saviour more than a dessert recipe. I made this when I had some unexpected, but welcomed, guests accompanied with kids. I really don't like the idea of letting the kids leave without a small treat. And then there was chocolate covered biscuits. I'd a big bar of dark chocolate and two packets of marie biscuit. So why not? You can use any other type of biscuits as well. Walnut or almond biscuits can also be a great alternative. Here's how you can make a effortless, quick, and a simple dessert.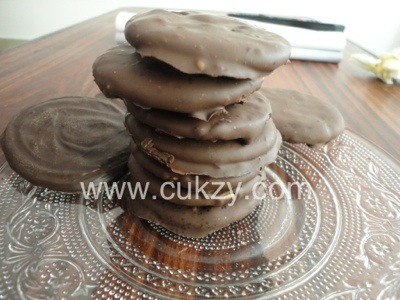 Ingredients:
150 grams dark chocolate (you can use milk chocolate as well)
15 nos marie biscuits
Finely chopped walnuts/ almonds (optional)
Method:
1. Melt the chocolate in the microwave. You can use the double boiler method also.
2. Spread an aluminium foil or wax paper on kitchen table.
3. Dip each biscuit into the melted chocolate. Cover it well.
4. Place the biscuits on foil/ wax paper and allow them to dry. Garnish the biscuits with nuts.
Ready!! 🙂 You can store it in an airtight container or – best – just eat it all up!