Let me describe Kung Pao Chicken – chunks of stir-fried chicken, smoked with Sichuan chili peppers, paired with green and red bell peppers, and coated in sweet, salty, and mildly spicy sauce. No doubt it is a favorite Chinese take out dish.
This is the perfect restaurant-style Kung Pao Chicken recipe. Take my word.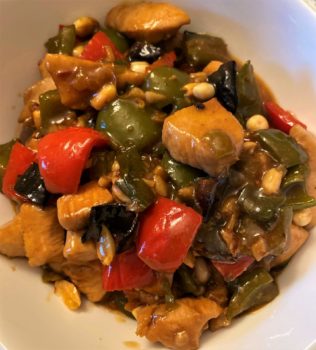 The essence of Kung Pao Chicken is in the red chilies and Sichuan peppercorns. The best way to infuse the chicken with flavor and aroma of the chilies and Sichuan peppercorns is to stir fry the peppers on high heat for a few seconds before adding the marinated chicken. Stir fry the chicken and the chilies and you'll have the perfect punch of spice!
Let's get to the sauce. Authentic Kung Pao Chicken recipes call for Chinese sweet black rice vinegar, cooking wine, and hoisin sauce. Neither did I have the sweet black rice vinegar handy nor do I use alcohol in my cooking. Hoisin sauce is a sweet and salty thick sauce that is usually used for the glaze. Fortunately, I did have hoisin sauce but if you don't have it, don't sweat it. The combination of soy sauce with balsamic and apple cider vinegar does a great sweet and sour job and enhance the flavor of the dish.
Traditionally, green and red bell peppers are used in Kung Pao chicken. Zucchini and carrots are commonly used in take-outs and they do taste good so go ahead and experiment.

Pair it with

Egg Fried Rice

for a complete dinner.
Ingredients:
300 grams boneless chicken, diced
1 tbsp finely chopped ginger
1 tbsp finely chopped garlic
2-3 tbsp spring onions, chopped
1 cup green capsicum, diced
1 cup red capsicum, diced
5-6 dried red chilies, roughly chopped
2 – 3 tbsp oil (peanut is best)
1 cup of lightly toasted peanuts
Marination:

1 tbsp soy sauce
½ tbsp apple cider vinegar (substitute with white vinegar)
1 tbsp cornstarch diluted in water
Pinch of Salt
Homemade Kung Pao Sauce:

1 tbsp sugar
1 tbsp balsamic vinegar / sweet black rice vinegar
1 tsp hoisin sauce
1 tbsp soy sauce
½ tsp white vinegar
1 tbsp cornstarch diluted in water
2 tbsp chicken/ vegetable broth (substitute with water)
Method:
1. Marinate the chicken and keep aside for 20 – 30 minutes.
2. Prepare the Kung Pao sauce and set aside.
3. Heat the oil in a skillet. Once hot add in the red chili peppers and give it a stir for about 2 seconds. Toss in the marinated chicken pieces. Mix the chilies and the chicken well and saute for about 15 – 20 seconds on heat, stirring continuously. The red chilies give the chicken a distinct aroma and flavor identified with Kung Pao chicken.
4. Add the chopped garlic, ginger, and spring onion. Stir constantly so that none of the ingredients burn and all are mixed well. Saute for 20 seconds on high heat. The chicken pieces would have turned golden.
5. Pour in the sauce. The sauce would sizzle the moment you would have poured it on the chicken. Stir to combine everything. Reduce heat to medium. If your gravy is becoming lumpy because of the cornstarch, add in 1 – 2 tbsp of water. Mix everything and allow to cook for about 1 minute on medium heat.
6. Add in the toasted peanut and stir fry on high for 10 seconds. By now the chicken would be coated in the thick sauce.