Butter Chicken is our favorite order at the restaurant. It is creamy and flavorful with every spice showing off its power in a subtle way. The dish is a favorite among kids since it's not pungent.
Tandoori chicken and kasoori methi (dried fenugreek leaves) are the souls of Butter Chicken. Without these Butter Chicken would easily fall flat. To spin off a quick tandoori style chicken at home, marinate the chicken overnight (or at least an hour) in tandoori masala and grill in the oven. Alternatively, you can lightly fry the marinated chicken in oil or butter.

A few points to note:
1. There is no rule about using boned or boneless chicken. You can choose either. The rule is about using tandoori chicken.
2. To get the flawlessly smooth gravy, make sure you strain the puree and the yogurt.
3. I've not used readymade Butter Chicken masala for this gravy (I was overenergetic!) but I usually do. So, please feel free to use any brand of Butter Chicken masala you like. Pick a tandoori masala to marinate your chicken.
4. I haven't added artificial red color so this recipe won't result in the 'bright red' gravy. You can add a pinch of artificial red color or tandoori/tikka masala. Store-bought Butter Chicken spice powders have artificial coloring.
Ingredients for marination (you can substitute with readymade chicken tandoori masala):
1 kg chicken, boned/boneless [If you're using boned, use medium cuts and make incisions on the chicken pieces; if you're using boneless, use thighs or breasts and cut into 1-inch thick pieces – strips or cubes].
1 tbsp mustard oil
1 tbsp red chili powder (I use less since my family doesn't like spicy food. You can use 2 tbsp if it suits your taste)
2 tbsp ginger-garlic paste
1 tbsp coriander powder
1 tsp cumin powder
1/2 tsp turmeric powder
1 tsp garam masala
1 tsp fenugreek powder
Salt
1/2 cup thick yogurt (drain the whey and then measure)
1 tsp lemon juice
1. Marinate chicken in all the above ingredients for at least an hour (overnight works magic!). Heres' a trick for the tandoor aroma: burn a piece of coal and place it on a layer of onion; place the onion layer with the live coal on top of the chicken; pour ghee on the hot coal and cover the chicken. The chicken will be infused with the smoky flavor of a tandoor.
2. Grill the chicken in a pre-heated oven or shallow fry the chicken pieces on a pan (use a combination of oil and butter).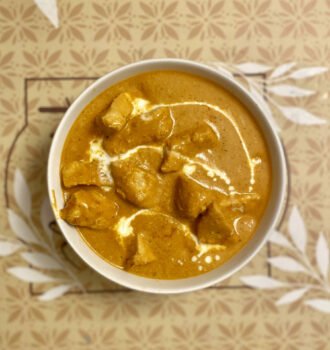 Ingredients for the gravy (you can use the readymade butter chicken masala to substitute the spices according to the measurements mentioned on the packet):
2 tbsp oil
1 tsp whole cumin seeds
3 medium-sized / 2 large-sized onions, sliced
8-10 garlic cloves
1-inch ginger piece
3 whole green chilies
1-2 tbsp red chili powder (according to your taste)
1 tbsp coriander powder
1/2 tsp turmeric powder
1/2 tsp kasuri methi
3-4 green cardamom
2 Kashmiri red chili (for color more than spice)
5-6 medium-sized tomatoes, chopped in chunks
1/3 cup cashew nuts
1 cup chopped coriander leaves
Salt to taste
2 tbsp butter
1. Heat the oil in a saucepan. Add the cumin seeds. Once they crackle, add the sliced onions and fry till they turn light brown.
2. Add in all the ingredients mentioned above. Mix everything well. Cover and cook on low heat for about 20-30 minutes while stirring periodically (don't be in a hurry). When the tomatoes have completely softened (mashed up texture), cool down the gravy and puree it in a blender.
3. Heat 2 tbsp butter and 1 tsp oil in a saucepan. Strain the pureed gravy and add to the saucepan. Cook on low heat for about 5 minutes. If the gravy is sticking to the bottom, add in half a cup of HOT water.
4. Add in the chicken pieces and mix well. Add hot water to adjust the consistency. Add 1 tsp of dried kasoori methi leaves and a pinch of garam masala. Cook on low flame for about 5 minutes, stirring constantly.
5. Add 3-4 tbsp of fresh cream and 2 tbsp finely chopped coriander leaves. Mix well. Bring to a final boil (light bubbles) and turn off the flame.
It's all set! Pair it with naan and gobble it down!