Prawn masala is quite popular Indian-style prawns recipe. Different regions have different methods of preparing prawns masala. An aromatic thick gravy, the star ingredient in prawns masala is the cumin powder. The tradition with my folks is prawns masala or fish fry or both with flavoured vegetable pulao. You can also have the prawn masala with roomali roti. Here is a quick and delicious Sunday lunch!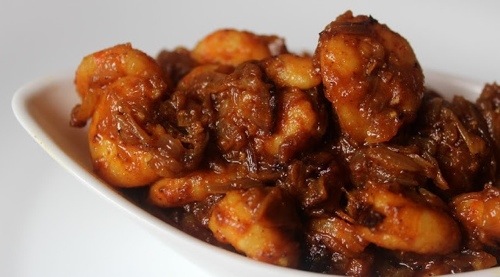 Ingredients:
500 grams prawns, shelled and deveined
6 tbsp oil
2 medium onions, finely chopped
3 medium tomatoes, finely chopped
1 1/2 tsp garlic paste
3 tsp red chilli powder
Pinch of turmeric
1 tso cumin powder
1 1/2 tsp salt
5 green chillies, slit
1 tbsp white vinegar
1 tbsp chopped coriander leaves.
Method:
1. Heat the oil in a pan. Add in the onions and saute till golden brown. Add in the garlic and saute for about 10 minutes.
2. Add in the spice powders and salt, stirring for about 10 minutes. You can sprinkle some water to prevent the spices from burning.
3. Add the tomatoes and fry for about 15 minutes.
4. Toss in the chillies and saute. Add in the prawns. Cook the prawns for about 5 minutes or till they turn pink.
5. Pour in the vinegar and simmer on low heat for about 2 – 3 minutes
Serve garnished with coriander leaves<