An instant pot biryani has been pending for long on my 'To Cook' list. After years of cooking biryani the prolonged, conventional way – cook the meat and rice separately, then layer the rice on the meat. So I couldn't get my head around making mutton biryani in the instant pot – a one-pot biryani in under an hour. But this was a deliciously successful adventure and is definitely my quick-fix biryani option. Unlike my usual Bombay Biryani, this Instant Pot Biryani uses basic spices and is yet very flavorful. I love my biryani with potatoes but if you are the biryani-must-be-without-aloo person, you can omit it.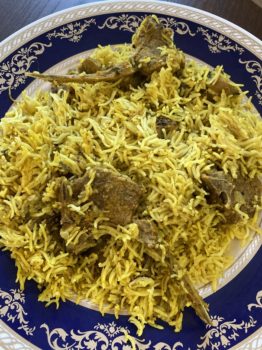 Here are a few pointers before you get started with this amazing Instant Pot Mutton Biryani.
Mutton or lamb takes longer to cook than chicken. Since we are cooking the mutton and rice together in this recipe, its important to keep a few things in mind to get the mutton done right.
You can use either bone-in or boneless mutton. Bone-in meat is the best for biryani. Cut the meat as evenly as possible and in small to medium sizes.
If you want your mutton to be very tender, you can apply meat tenderizer on the meat for 10 minutes BEFORE marination. Rinse off the tenderizer and marinate with the ingredients listed below. If you are substituting mutton with chicken, avoid the tenderizing it.
Enjoy your biryani!
Mutton Biryani Masala:
500 grams mutton, cut into medium pieces
1 large potato, cubed into small pieces
1 tbsp ginger-garlic paste
1 tsp turmeric powder
1 tsp red chilli powder
2 tsp garam masala
1/4 teaspoon ground cardamom (grind about 6 cardamom seeds)
1/4 tsp ground cinnamon (grind a 1 inch cinnamon stick)
⅓ tsp ground cloves (grind 2 – 3 whole cloves)
1 tsp salt
1/2 cup yogurt
3 – 4 tbsp oil
1/2 cup chopped coriander leaves
Rice:
1 cup basmati rice
1/2 teaspoon salt
1 cup water
For the Garnish
1 cup sliced onion, deep fried to golden brown
1/2 cup chopped cilantro
½ cup chopped mint
1 tsp melted ghee
Method:
1. Rinse the rice and drain all the water. Set it aside. This allows the rice to soften.
2. Marinate the mutton for a good half an hour. The longer you marinate, the better.
3. Add the marinated mutton in your instant pot so that the mutton is spread evenly across the bottom.
4. Now add the rice on top of the mutton and spread evenly. Do not mix the mutton pieces with the rice.
5. Pour in 1 cup of water. Make sure all the rice grains are submerged in water.
6. Cook at High for 6 minutes on the Sealing position. After 6 minutes let the pressure release naturally. That means you have to wait for the Float Valve to go down on its own. This will take about 20 – 25 minutes.
7. Garnish with fried onions, melted ghee, coriander leaves, and mint leaves.