Define 'comforting food' – Chicken with vegetables topped with creamy gravy and blanketed by a buttery, flaky pie crust. That's Chicken Pot Pie. Its been a while since I made a pot pie but, thanks to my little Game of Thrones recipes adventure, I've revisited the pie page again. It reminded me how much my family and I loved digging into a pie to get spoonfuls of goodness.
The most celebrated dish in Game of Thrones is a pigeon pie – a dish meant to be served at feasts. The grand pigeon pie served at King Joffery's wedding is like the medieval reflection of our wedding cake tradition – the groom, the bride, and the cake (or the pie). Quite obviously, the pigeon pie was a must on my Game of Thrones Recipes list with, of course, a little tweak – substitute pigeon with chicken since that's the only bird we eat 😀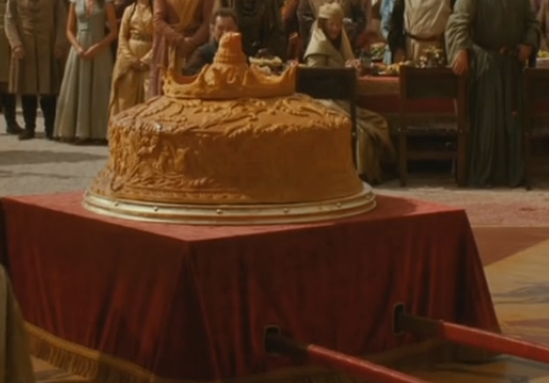 Chicken pot pie is simple even if you don't have your pie crust ready. The crust needs just 4 ingredients and at least 3 hours of refrigeration. The pie crust is the the star of the dish so I like to prepare it myself – I know I won't go wrong. I prefer my pot pie to be double crusted – crust at the bottom and top. You can always go with single crust.

Pie Crust Ingredients:
1 1/4 cup all-purpose flour (maida)
1/4 tsp salt
1/2 cup butter, chilled and diced
1/4 cup water, chilled
Method:
In a large chilled bowl, combine flour and salt. Add the butter cubes and mix the dough gently to break up the butter pieces till they are pea-sized or a little bigger. You can use a pastry cutter or a mixer or just go old-school with the magic of your hands.

Add ice water little by little while your work your finger through to make a dough ball. Stop adding water when you notice large lumps that can stick together.

Break the dough in half and in a plastic wrap fore refrigeration while you prepare the chicken stuffing.
Chicken Pot Pie Stuffing:
500 grams boneless chicken, bite-size cubes
1/3 cup butter
1/2 tsp chopped garlic
1/3 cup onion, chopped
2/3 cup milk
1 cup chicken broth
1 cup carrot, diced
1 cup peas
2 medium potatoes, small cubes
1/2 cup celery, chopped
1/4 tsp black pepper
Method:
In a saucepan, combine chicken, carrot, peas, potatoes, and celery. Add water to cover and cook till soft. Set aside to cool.

In a saucepan, heat the butter and add garlic and onions. Saute till the onions are soft. Add the flour, salt, and pepper. Stir for a minute.

Slowly pour in the chicken broth and milk. Simmer over medium heat until thick. Whisk continuously to avoid forming lumps. When done, set aside to cool.
Assembling:
Preheat the oven to 425 F or 220 C.

Dust a flat surface with some flour and start rolling the dough balls gently. Roll from the center to the sides. Flip the dough gently to roll both sides. Roll the other half of the dough as well.

Place one half of the dough in a 9-inch pie dish. Level it with your fingers and trim the extra on the sides with a sharp knife.

Gently add in the chicken and vegetable mixture and spread it evenly. Pour the flour gravy on top.

Cover with the other half of the rolled out dough. Seal the edges and trim out the extra dough on the sides.

Bake for 30-35 minutes at 400 F or 200 C.