American Chopsuey is a famous dish in the Indo-Chinese cuisine and my favorite! The dish is a healthy combination of chicken and vegetables coated in tangy, lightly spiced tomato sauce that is served with crispy noodles. You can spice it with either red chili sauce or schezwan sauce. I love using chili garlic sauce in most of my Chinese cooking so that's what I'm going to be doing here. You can add onions (1 cup, thinly sliced) to the list of vegetables if you like. You can other Indo-Chinese recipes like Gobi Manchurian, Babycorn Manchurian, Orange Chicken, and Honey Sesame Chicken.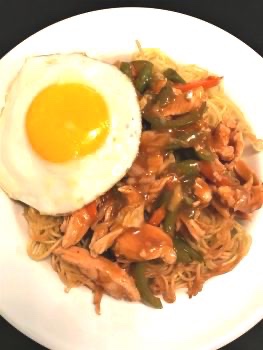 Ingredients:
2 Chicken breasts, cut into thin strips
1 cup capsicum, finely and diagonally sliced
1 cup carrots, finely and diagonally sliced
1/2 cup cabbage, finely sliced (remove the core, hard layers)
1 cup french beans, finely and diagonally sliced
2- 3 garlic cloves, minced
4 tbsp Tomato Sauce
2 tbsp Chili Garlic Sauce
1 tbsp Soy sauce
1 – 2 tsp black pepper (as per taste)
1/2 tsp White pepper
1 tsp Sugar
1 tbsp Corn flour, blended with a quarter cup of water
2 packets egg hakka noodles – about 300 grams
Sunny side up fried eggs (how many ever you like)
Oil to deep fry
Method:
For the Noodles:

1. Boil the noodles according to packet instructions. Drain and cool.

2. Heat oil to deep fry the noodles. Take a handful of the boiled noodles and add it to the oil. Fry it uninterrupted for 5 minutes on high flame.

3. Flip and fry the other side till the noodles are light brown and crisp. Remove and drain on kitchen napkins. Take another handful of boiled noodles and repeat the process till all the noodles are over.

Remove on paper towels and set aside.

For the Sauce:
1. Heat 2 tbsp oil in a wok or a saucepan. Add the chopped garlic and saute for a few seconds.

2. Add the chicken and stir fry for five minutes on high heat.

3. Add all the vegetables and the sauces and mix well.

4. Season with salt, black pepper, and white pepper. Stir fry for about 5 – 10 minutes.

5. Add the water and bring the gravy to a boil. Reduce the heat and add the diluted cornflour, stirring continuously. Simmer for about 2 minutes or till the sauce begins to thicken.
Assembly:
Place a portion of fried, crispy noodles on a plate. Pour the desired amount of warm gravy on it. Top it with a fried egg.
Have fun!