Kofta curry is a rich combination of meatballs dipped in creamy, lightly spiced curry. The koftas can be made with ground chicken or lamb. There are vegetarian kofta curry recipes as well where koftas are made with paneer, lauki, or potatoes. One of the favorites is the Malai Kofta Curry. Read the recipe here.
Koftas can either be baked, grilled, or fried and, like kebabs, can be served as starters or appetizers. A common problem is the koftas breaking apart while cooking. Keep a few tricks in mind while making koftas to avoid them from falling apart:
Strain all the water: Ground meat tends to be moist. After you wash the meat, place it in a strainer to drain out all the unnecessary water.
Add a little flour: The flour will soak up any leftover water in the meat and bind the koftas firmly.
This recipe is a simple one. The traditional kofta curry recipe calls for more ingredients and is an elaborate process. So, when I'm in the mood to go that extra mile, I'll share that one on Cukzy as well. For now, enjoy this simple kofta curry recipe.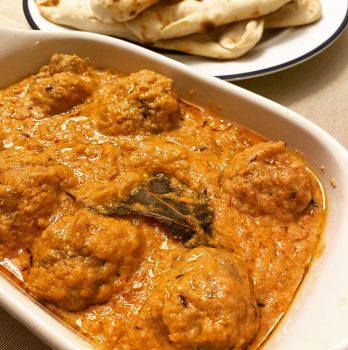 For the koftas:
500 grams minced mutton
2 tbsp finely chopped coriander leaves
2 green chillies, finely chopped
1 tbsp ginger-garlic paste
1 medium onion, finely chopped
1/2 tsp red chilli powder
1/2 tsp garam masala powder
1/2 tsp coriander powder
1/2 tsp turmeric powder
Salt as per taste
3 tbsp powdered chana dal
Making Koftas:
1. Grind all ingredients in a chopper or a blender till you get a paste-like texture.
2. Make medium-sized koftas – round balls using your palms.
3. Heat 2 cups oil in shallow frying pan. Once slightly hot, place all the koftas. Fry on medium heat on all sides.
4. Remove and keep aside on paper towels.
For the curry:
5 tbsp oil
5 cloves
1 cinnamon sticks
1 tsp cumin seeds
8 black peppercorns
1 bay leaf
1 medium onions, ground to paste
1 big tomato, pureed
1 tbsp ginger-garlic paste
Salt to taste
1 tbsp red chilli powder
1 1/2 tsp coriander powder
1/2 tsp turmeric powder
1 cup yogurt
Making the curry:
1. Heat oil in a pan. Add in the whole spices, onion paste and fry till golden brown.
2. Add ginger and garlic pastes and saute for about two minutes.
3. Add in the tomato puree, yogurt, and the spice powders. Stir, cover, and simmer on low heat for about 10 minutes.
4. Add in the meatballs. Stir lightly and add 1-2 cups of water. Cover and cook for 20 minutes.
5. Add the green chillies and coriander leaves and cover. Turn off the flame and let it stand.
You're all set!