Darbari Mutton sounds royal but is, honestly, a simple to prepare. Darbari Mutton isn't loaded with usual spices but rich ingredients like cashews and khoya/mawa. This is a slow cooker recipe but it can perfectly fit your regular cooking methods like stove top or pressure cooker. Slow cooker and stove top techniques take at least 3 hours for the mutton to cook but get the best out of every ingredient. Take a break from the regular dinner recipes and bring this one to the table. Give yourself a chance to test a different flavor on your folks!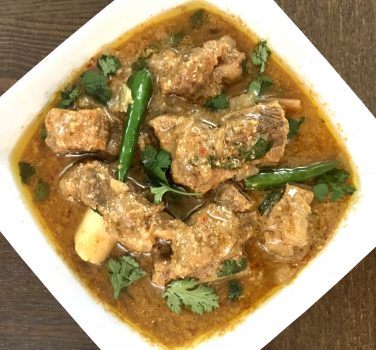 Ingredients:
4 Red chillis (soaked, deseeded, and ground to paste)
1 medium-sized onion, chopped
2 tbsp tomato puree/ 1 tsp tomato paste (You can blend and sieve 2 tomatoes for the puree)
1 tsp ginger-garlic paste
1/2 kg mutton ( you can use chicken as well)
1 cup beaten yogurt
1/2 cup khoya/ mawa
1 tsp garam masala
1 tsp salt
1-2 cups oil
Darbari Paste:
1 tsp poppy seeds
1 tsp sesame seeds
8 cashew nuts
Method:
1. Fry the onions in a pan in about 1 cup oil until golden. Keep aside on paper towels.
2. Turn your crockpot to High. Add 3-4 tbsp oil, red chili paste, ginger-garlic paste, tomato puree, darbari masala paste, garam masala, and salt. Mix everything lightly with a wooden spoon for about 2 minutes.
3. Add the mutton and mix so that all the mutton pieces are coated in the spices. Cover and let the mutton fry in the gravy for about half-an-hour.
4. Add about 2 cups of water and let the mutton cook for at least 3 hours.
5. Add the beaten yogurt stirring constantly so that the yogurt doesn't curdle. Add the khoya and cook till the mutton is done – about another hour.
6. Add green chillis and coriander leaves before serving.