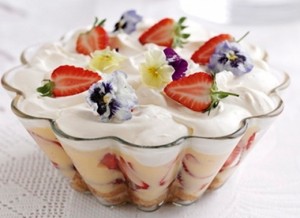 The trifle is a colorful and multi-layered cold dessert. Kids would love it and adults would indulge in it. The best part of this trifle recipe is the variety of fruits that can be used. Definitely the best summer recipe, it can also be made with chocolates or berries or any other fruits. Here is an easy dessert recipe – a cocktail fruit trifle. Delicious and ideal for parties. 🙂
Ingredients:
1 packet of Swiss roll or any pound cake
1 tin of mixed fruits
1 sachet of strawberry jelly
1 ½ cup water
1 cup Milk
7 tbsp sugar
4 tbsp custard powder
Whipping cream
Method:
Cut the cake about 1 to 2 cm thick and arrange it in a glass bowl. Pour some of the juice from cocktail over the cake.
Mix 1 cup of water and 1 cup of milk and sugar and boil it. At the same time, mix 4 tbsp of custard powder with half cup of water.
When the milk comes to a boil add the custard mixture and let it cook on low flame. Keep stirring until it is thick and then pour it on the first layer.
Arrange the fruits from the can over the custard, keep aside and let it set
Prepare the jelly according to the instructions. When ready pour it over the custard and fruits. Keep it in the refrigerator till it sets.