Harira is a popular Ramadan dish from the Moroccan cuisine. Harira can be vegetarian or non-vegetarian. You can simply prepare a vegetable broth instead of using meat. Moroccans usually include Harira in their iftar. Rich in nutrition with meat, lentils, and herbs, Harira provides the body with the right amount of liquid and solid food as soon as the fast is broken. Harira was brought to Morocco by the Berbers of the Kingdom of Numidia (202 BC – 46 BC). Harira is culturally significant as it follows Prophet Muhammad's (p.b.u.h) way of iftaar – dates, water, and barley broth with meat and vegetables.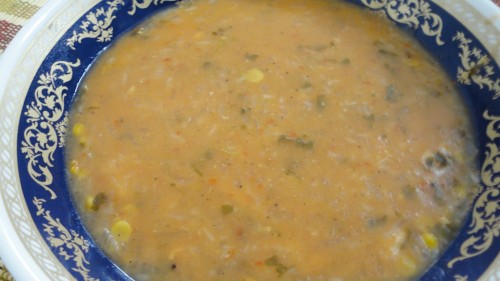 Ingredients:
3oo grams meat cubes (beef/mutton/chicken)
1 cup chickpeas (garbanzo beans), soaked overnight
1 large onion, finely chopped
2 large tomatoes, pureed
1 cup lentils, soaked for an hour
2 tbsp butter
1 tbsp ginger powder
1/2 tbsp black pepper powder
2 tbsp coriander leaves, chopped
2 tbsp parsley leaves, chopped
1/2 celery stick, chopped
1/2 tsp turmeric powder
1 cinnamon stick
1 liter water
2 tsp tomato paste
1/2 cup vermicelli
1/4 cup all purpose flour (maida), diluted in some water
1 egg, beaten (optional)
2 tbsp oil
Salt for seasoning
Method:
1. In a large saucepan, add the oil and fry the onions and the meat for 5 minutes. Add in all the spice powders and stir. If you want a vegetarian broth, skip the meat.
2. Add in the tomato puree, lentils, and chickpeas. If you are using canned chickpeas, add them after the broth has cooked.
3. Pour about a liter of water. Add in all the herbs – the coriander, parsley, and celery. Season with salt. Allow to cook for about half an hour to 45 minutes.
4. After half an hour, add in the vermicelli and the tomato paste. Allow to simmer for ten minutes.
5. Little by little, pour in the diluted flour, while stirring continuously. The soup will gradually thicken.
6. Add in the beaten egg, stirring continuously.
Your Harira is ready to serve.