Here is one of the favourite recipes for keema or mince meat. Keema is a delicious and easy way with mutton. Since the meat is tender, it does not take long to cook. Dum ke Kabab is a popular breakfast dish in many regions and, yes, its not a healthy start to the day. But it is definitely a perfect casserole recipe for dinner. Except for the refrigerating time (3 hours), this keema recipe is simple and quick. You can also add in some extras like capsicums, potatoes, or tomatoes. Try it!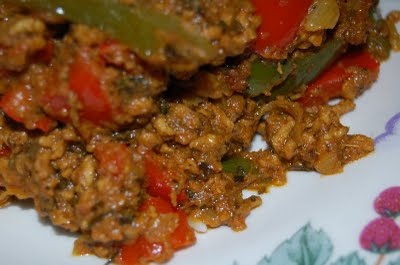 Ingredients:
500 grams mutton minced
2 medium onions, finely chopped
1 tsp ginger paste
1 tsp garlic paste
1 tsp red chilli powder
1/2 tsp garam masala powder
A pinch of turmeric powder
6 green chillies, finely chopped
1 cup finely chopped coriander leaves
6 almonds, roasted and finely powdered
6 cashew nuts, roasted and finely powdered
3/4 cup thick yogurt 2 tbsp chana dal, roasted and powdered
1 1/2 tsp salt
Method:
1. Mix all the ingredients together. Knead the mixture well.
2. Refrigerate for 3 hours.
3. Preheat oven to 180 C. Spread the mixture in a greased baking dish evenly.
4. Bake for about 30 minutes till it turns a golden brown.
Serve!