I churned out this recipe drawing inspiration from the palatable Malaysian Ikan bakar (grilled/barbecued fish with spice based sauce). I just couldn't resist harnessing the temptation to visit Malaysia again and relish the fish and sambal sauce. Sambal belacan sauce, made with shrimp paste, is the primary ingredient for most Malay dishes. I've tried to Indianize the recipe a little, since the traditional sambal sauce is rarely available in the Indian markets. The flavour of this dish is balanced with the right amount of spiciness. However, nothing aptly replaces the sambal belacan. I've used my favourite fish, mackerel (bangda), for this recipe. The catch here is the marination time – the longer the better.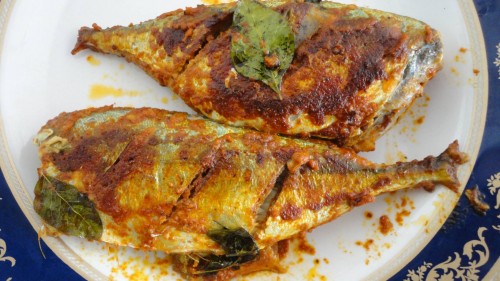 Ingredients:
Grind together:
2 medium sized tomatoes, chopped
1 large onion, chopped
3 long red chillies
Marination:
4 mackerels (bangda)
2 tsp ginger paste
1/2 tsp garlic paste
2 tsp tamarind juice
1 tsp coriander powder
1/2 tsp cumin powder
Salt to taste
1/2 tsp lemon juice
8 to 10 curry leaves
Method:
1. Grind the tomatoes, onion, and red chillies to a paste.
2. Add in the tamarind juice, ginger and garlic paste, coriander and cumin powder, and lemon juice. Season.
3. Make incisions across the mackerels. Partially slit open the mackerel from its side, and stuff in some of the ground paste.
4. Marinate the mackerel with the leftover paste for at least an hour.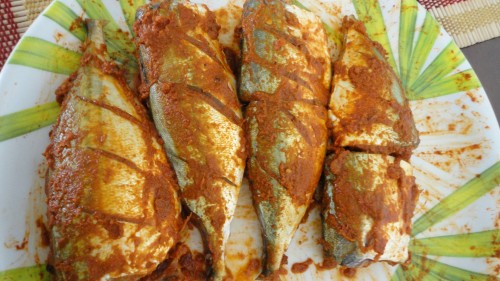 5. Heat oil in a non stick pan. Season with curry leaves.
6. Fry the mackerels until crisp on both sides, and done.