Like I've said before, I enjoy dishes that combine meat with vegetables. Karela (bitter gourd) is a vegetable with 'mixed feelings'. You'd detest it if you have it by itself, and you'd enjoy if you combine it with different ingredients and spices that compliments its astringent flavor. So here is one of my husband's favorite dishes – Keema Karela.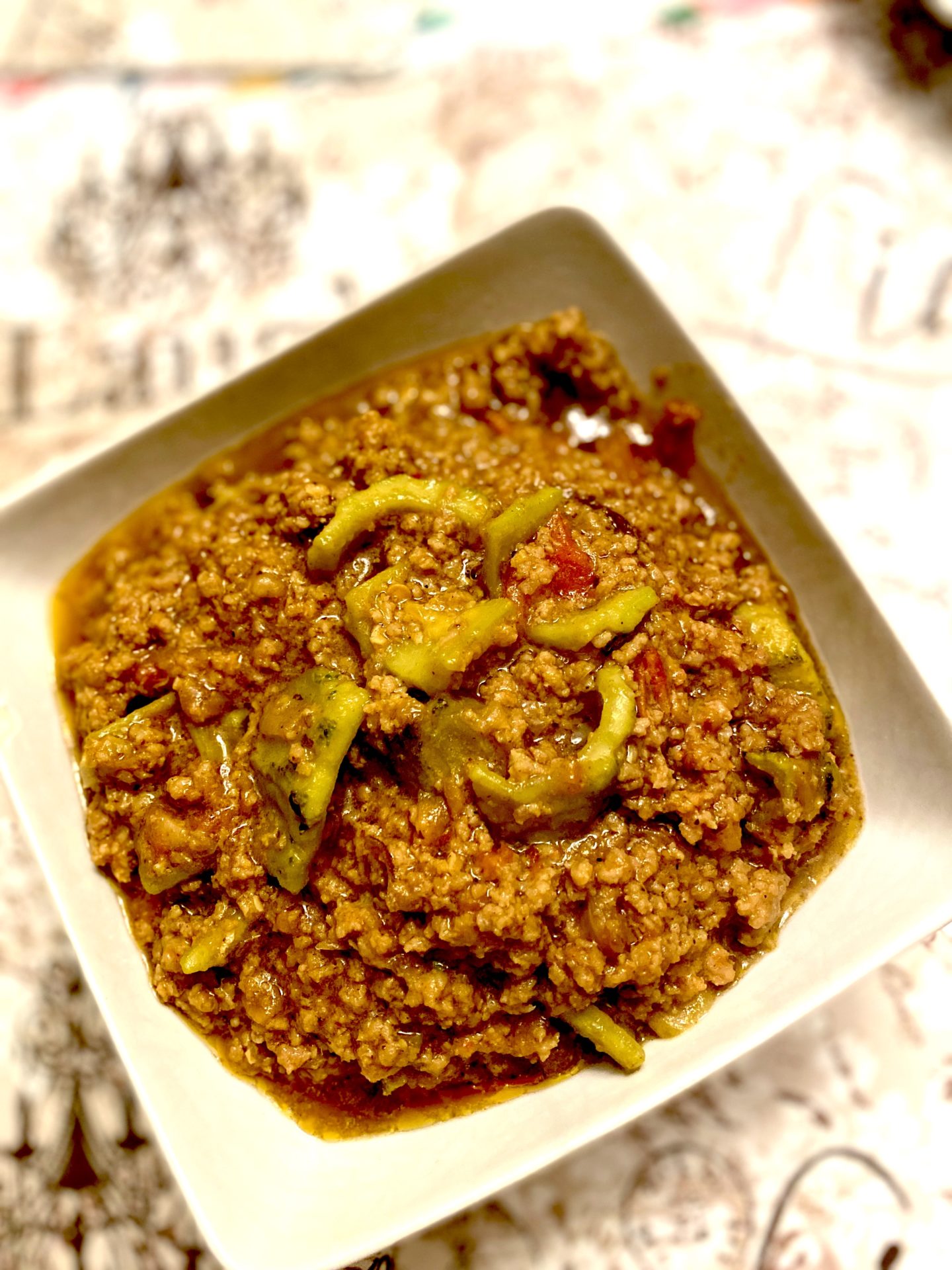 For keema:

500 grams keema (minced meat)
2 cloves
2 black peppercorns
2 green cardamoms
1/2 inch cinnamon stick
1 small bay leaf
1 large tomato, chopped
1 onion, chopped
1 tsp ginger-garlic paste
1 tsp red chilli powder
1 tsp coriander powder
1/2 tsp haldi
1-2 green chillies, slit
1 tsp salt
1 tsp garam masala
Handful of coriander leaves, chopped
2-3 tbsp oil

For Karela Masala:

2-3 bitter gourds, sliced (karela)
1 medium-sized tomato, chopped
1 medium-sized onion, chopped
1/2 tsp red chilli powder
1/2 tsp salt
1-2 tbsp oil

Method:

1. Roughly peel the bitter gourds. Slice and sprinkle salt. Leave aside for half-an-hour or so.

2. Heat oil in a saucepan. Add the chopped onion, chopped tomato, ginger-garlic paste, salt, red chilli powder, and turmeric powder. Add 1 cup water and cook till the keema is done.

3. Meanwhile, heat oil in a frying pan. Sautée the karela slices for about 20 seconds. Add chopped tomato and onion. Sautée till they soften. You can add a tbsp of oil if you like.

4. Add the red chilli powder. Sautée for about 20 seconds on medium flame.

5. Add 1 tsp lemon juice. Give it a mix and keep the karela mixture aside.

6. When the keema is cooked, add in the karela mixture. Mix for 20 seconds on high flame.

7. Add the garam masala, give it a mix, and serve.