I love the addition of vegetables to meat dishes. There's an endless variety – palak gosht, lauki gosht, karela keema, bhindi gosht and so on. My favorite is the all-famous Aloo Gosht curry. I imagine these were created by chicken-mutton lovers who knew that vegetables are important but found the sabzi style boring, so they blatantly added the vegetables to their favorite non-veg dishes. Honestly, I can identify with them. The same goes with lentils too. Haleem – the most celebrated dish – is but a combination of meat and lentils.

So, here's methi chicken. Methi adds an interesting flavor and health points to the regular chicken curry. You can try the same recipe with dill leaves too.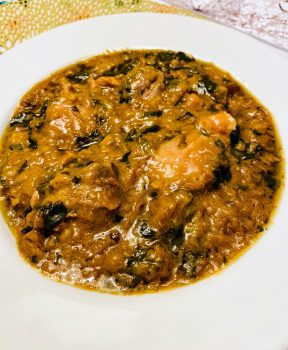 Ingredients:
500 grams chicken
2 cups of methi leaves (fenugreek leaves)
2 onions, finely chopped
2 tomatoes, pureed
2 green chillies, deseeded and slit in half
2 tbsp yogurt
1 tsp ginger-garlic paste
1/2 tsp turmeric powder
2 tsp red chilli powder
2 tsp coriander powder
1/2 tsp garam masala powder
1/2 tsp fennel powder (saunf)
1/2 tsp cumin seeds
1/2 tsp fennel seeds (saunf)
2-3 tbsp oil
Method:
1. Heat oil and add the cumin and fennel seeds. Be sure not to burn them.
2. Add the chopped onions and sauté till light brown. Add the ginger-garlic paste and green chillies. Sauté for about 10 seconds.
3. Add in the chicken and the powdered spices except garam masala and fennel powder. Mix well so that all chicken pieces are covered in the spices.
4. Pour in the tomato puree, beaten yogurt, and salt. Mix so that all the ingredients have blended well.
5. Add a cup of water. Cover and cook for about 15 – 20 minutes or till the chicken is done.
6. Reduce the heat to minimum. Add the methi leaves, garam masala powder, and fennel powder. Mix well. Cover and simmer for 5 minutes on low heat.
There you go!