We all are waiting for mangoes. Moreso, we are waiting to try the differing mango chicken recipes and other mango recipes for starters and main course. Here is a mango recipe that can be a part of your starters. After the honey-bbq chicken wings recipe, here is Cukzy's another delicious recipe for chicken wings. A sweet and spicy sauce, this mango sauce has a dash of chilli that makes the chicken wings distinctly appetizing. This mango chicken recipe is a must-try and should be on your list of mango recipes for the season.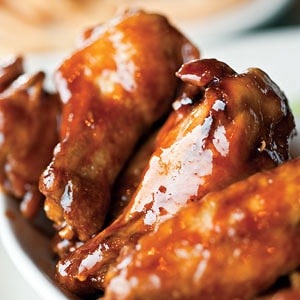 Ingredients:
12 chicken wings
Salt and black pepper for seasoning
To blend: (puree until smooth)
2 large mangoes, peeled, pitted and coarsely chopped
2 1/2 tbsp dark brown sugar / granulated sugar
2 tsp Worcestershire sauce
1 tbsp chili paste
3 garlic cloves
1/2 tsp red pepper flakes
1 tbsp vegetable oil
Method:
1. Cut off the wing tips, wash, and pat dry. Season with salt and pepper in a large bowl.
2. Marinate the chicken wings with the sauce, keeping aside 1/2 cup for serving. Cover wings with plastic wrap or use a zip-lock bag and refrigerate for 30 minutes to 1 hour.
3. Preheat oven to 180 °C. Place wings on the prepared baking, keeping aside the excess marinade. Bake for 30 minutes until cooked through.
4. Meanwhile, simmer the reserved sauce in small saucepan until thickened on medium flame.
Toss the chicken wings in half of sauce. Serve remaining mango-chili sauce on the side for dipping.