Nothing like making mango pickle at home. The flavour is much better than the pickles available in the market. Here is a simple mango pickle recipe called the mango thokku. Mango thokku is quite popular in West and South India. Making pickles at home always sounds like a huge task. But I can bet this mango pickle recipe is simple, and less time consuming. Mango thokku tastes best with parathas.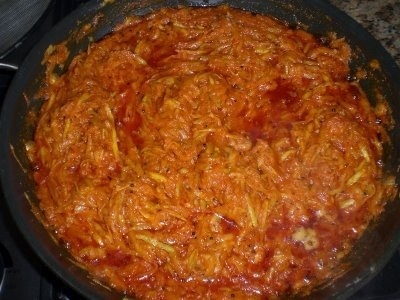 Ingredients:
5 cups grated raw mango
1 ladle – Sesame oil
1 tsp. (or as per taste) – Salt
1/2 tsp – Turmeric powder
1 1/2 tsp – Chilli powder
1 tsp – Kashmiri chilli powder
1/2 tsp Fenugreek powder
1/4 tsp asafoetida
1 tsp mustard seeds
Method:
1. Dry roast fenugreek seeds and powder it finely.
2. Heat oil in a heavy-bottom pan. Add mustard seeds. When it splutters, add asafoetida, turmeric powder, and the grated mangoes.
3. Add salt and chilli powder. Stir frequently till it is cooked and oil separates.
4. Finally, add the fenugreek powder and mix well.
Store in a clean dry container and refrigerate. It can last up to one month.