Grilled chicken wings has conveniently replaced the barbecue and the fried alternative. Oven baked chicken wings have been the simplest of all chicken wings recipes. There are a number of different sauces that make chicken wings amazingly delicious. The chilli mango chicken wings recipe on Cukzy is a distinctly delicious recipe that is a must-try. Among my favourites is the bbq chicken wings (which will be up soon) and the honey garlic chicken wings, which is here for you to try! And its just in 3 steps.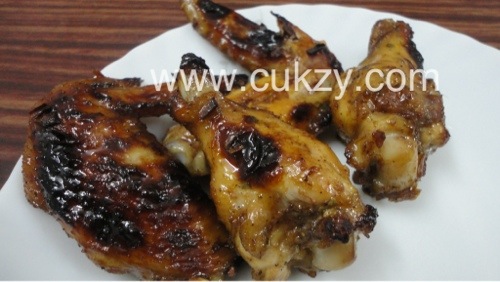 Ingredients:
10 chicken wings
3 tbsp honey
2 tbsp soy sauce
2 – 3 tbsp barbecue sauce
1 tsp olive oil
5 garlic pods, minced
2 tsp chilli sauce
1/2 tsp black pepper powder
Salt
Method:
1. Make two sections of the chicken wings. Add in all the ingredients except honey and allow to marinate for 20 to 3o minutes.
2. Add in the honey and mix well, coating each piece. Set aside and preheat your oven meanwhile.
3. Cover the wire rack with foil and place the marinated chicken wings. Bake/grill at about 180 to 200 C for 20 minutes. Flip sides halfway and pour the remaining marinade over the wings.
Done! Enjoy your chicken wings