Mango chicken curry is an unusual combination, but pretty famous during the mango season. There are many recipes that combine mango and chicken and produce delightful dishes. Some dishes even include the green mango. Cukzy's mango recipes can't just include desserts – let's spice up the mango a little!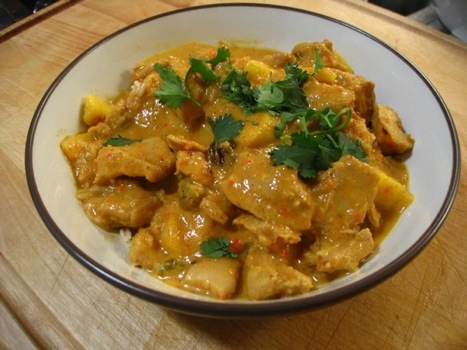 Ingredients:Method:
1. Heat about two tbsp. oil in a large pan over medium heat. Add onions and saute till soft.
2. Add the red bell pepper and an additional teaspoon of oil and simmer for 5 minutes.
3. Add the curry and cumin powder. Sprinkle some water in case the spices stick to the bottom. Add the ginger and garlic and simmer.
4. Add the vinegar, water, and a 1/2 of the chopped mango to the pan. Bring to a boil. Then reduce the heat to lightly simmer for 15 minutes, stirring occasionally.
5. Remove pan from heat and allow the sauce to cool. Purée it until smooth. Return the sauce to the pan.
6. Add the chicken pieces and raisins to the pan. Cook for 8-10 minutes covered.
7. Add in the remaining mango pieces to the pan. Stir in the cream and simmer only for a minute. The cream would curdle if brought to boil or cooked over than a minute.
So, here it is! An unusual but delicious combination of mango and chicken. Serve over rice. Garnish with cilantro.