Here is the all-time favourite Zinger Burger recipe. I am not claiming this the secret recipe of KFC which I've got hold of. This is my version. I looked around for recipe of zinger burger, but the the number of different versions got me confused. So, I included the basic ingredients in this zinger burger recipe, and added some according to my taste buds. Out of the many favourite burger recipes, zinger burger is one of the favorites. You'd generally not find barbecue sauce as a part of zinger burger recipes. I've used bbq sauce to marinate the chicken pieces since I like the sweet-spicy balance in the burger and, of course, the smoky flavor. I also like to flavor my mayonnaise to add a slight tang. Mayonnaise is actually the first thing you taste when you have your first bite of the burger. Its also a good idea to lightly toast the buns on a hot pan with the gas turned off – without any butter. It gives the burger a light crisp and it does not stuff your mouth with bread forcing your mouth through a painful exercise of chewing.  Anyway, here it is. Making zinger burger at home is a lot of fun. This recipe makes about 4 burgers. It depends on the chicken sizes you prefer.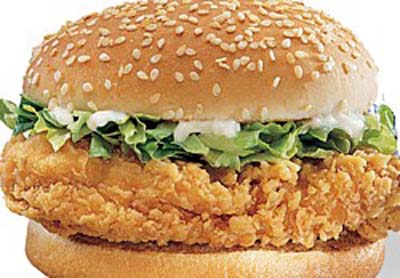 Ingredients:
Marinate:
2 breast pieces
1 1/2 tbsp soy sauce
1 tsp barbeque sauce
1 tbsp chilli sauce
1 tsp black pepper
Salt as per taste
For the batter:
1 cup flour
2 1/2 tbsp cornflour
1 egg
Season with salt and black pepper
For the coating:
2 cups cornflakes, coarsely crushed
2 cups breadcrumbs
Method:
1. Slice the chicken breasts horizontally, so you get thin breast pieces. Marinate them for at least 20 minutes.
2. Make a thick batter. Coat the chicken pieces in the batter. Batter should be thick enough so that it doesn't drip too much.
3. Coat the breast pieces in the cornflakes mixture.
4. Heat oil for deep frying and fry the breast pieces. The oil should be hot enough for the coating to stick and not be soggy. Of course, not so hot that the chicken remains raw and the coating is close to burning.
5. Prepare the burger. Place a tbsp of mayonnaise and lettuce. If you like you can also add in ketchup and cheese slices. I like adding 1/2 tsp tobasco and a little dried oregano to my mayonnaise.