Here is a delicious methi recipe by one of my friends. I would love to tag it as 'methi with a twist'. There is cream and no significant 'masalas'. Yet it is perfectly seasoned. Tried and tested and just ideal for those who don't have a taste for leafy-veg. The chilly and the cream measurements can be according to your taste. Tell us how it was.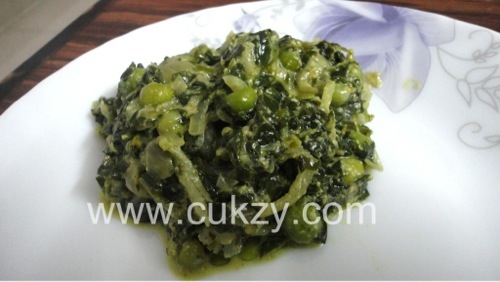 Ingredients:
100 grams kasoori methi or fresh methi, chopped
3 onions, chopped
2-3 green chillies (as per taste), coarsely ground
1/2 cup cream (the cream should not be thick. Smoothen the cream by adding milk)
1 cup green peas, boiled
Method:
1. Heat oil and add the chopped onions. Fry till they turn pink.
2. Add the chilly paste and salt to the onions and saute for about 5-10 minutes.
3. Add the cream. Allow to simmer while continuously stirring for about 5 minutes.
4. Add in the peas and allow to simmer.
5. Finally, add in the methi. Allow to cook for 10 minutes till the methi is done. You can use a teaspoon of black pepper powder if dish tastes sweet.
Done!