Honey mustard chicken is an easy to make finger snack, and can also be used as hot canapes. This honey mustard chicken recipe will definitely bring a zest to your evening time! 🙂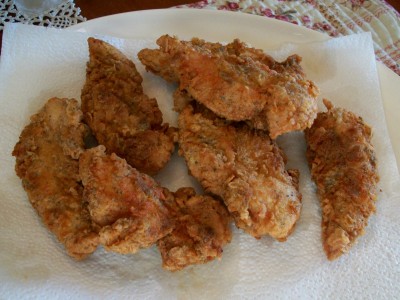 Ingredients:
2 chicken breasts
4 tsp dijon mustard
6 tsp honey
6 eggs
All-purpose flour for dusting
Fresh bread crumbs
Salt to taste
Black pepper
Oil to shallow fry
Method:
1. Cut finger thin slices of the chicken breasts.
2. Make a semi thick paste of the mustard, honey, salt and black pepper.
3. Marinate the chicken in honey mustard paste for about 2 hours.
4. Toast about two slices of bread and blend in a mixer for fresh bread crumbs.
5. Heat oil in a pan to shallow fry chicken.
6. Dust the honey mustard chicken pieces with flour to roughly coat each piece.
7. Now, coat the chicken pieces in the egg, and then in the bread crumbs. Shallow fry.
Your honey mustard chicken is ready to serve.