An interesting mango recipe I came across. Mango chicken chutney has a sweet and spicy flavour, owing to the main ingredient – mango chutney. In case you don't find the chutney in the grocery stores, you can use the mango chutney recipe mentioned at the end of the recipe. Mango chicken is a well- known delicious combination. This recipe is one of the many dishes made with mango and chicken.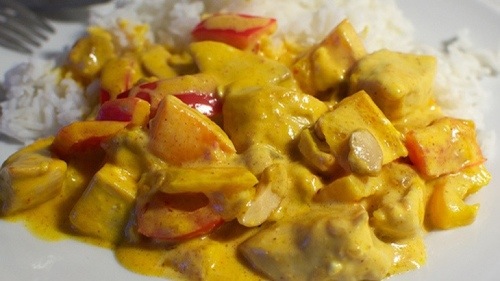 Ingredients
500 grams chicken thighs (boned skinned)
1 tsp curry powder
1/4 cup chutney (••• note at the end)
2 tsp fresh ginger (minced)
1 tbsp lemon juice
1/2 cup chicken broth
1 mango ( pitted, peeled, and cut into 1/2 inch chunks)
Salt
Method:
1. Cut chicken into about 2-inch chunks. Fry in a nonstick frying pan over medium-high heat until lightly browned on both sides.
2. Add curry powder to pan and simmer. Add in the chutney, ginger, lemon juice, and chicken broth.
3. Scatter mango over chicken and season. Cover and simmer, stirring occasionally. Cook till chicken is tender.
3. With a slotted spoon, transfer chicken to a bowl and keep warm. Boil sauce, uncovered, over high heat, stirring continuously. Reduce to about 1 1/4 cup for 2 to 4 minutes.
4. Pour sauce over chicken.
Serve with rice
Note:
Mango chutney should be sweet and spicy and is readily available in the market. If you don't have it on hand, you can blend in a raw mango, onion, vinegar, lemon juice, and some grated ginger. You'd get a similar taste.