Personally I like to use minimum ingredients for lobster thermidor ( a normal in French cooking unlike Asian cuisine) so as to not to overpower the rich flavor of lobster by using excessive ingredients. Here is my favorite Continental (French) sea food dish – or let's say, my only favourite! 🙂 I've kept the recipe as simple as possible, so you'd have a good time in the kitchen even if you are cooking lobster tails for the first time!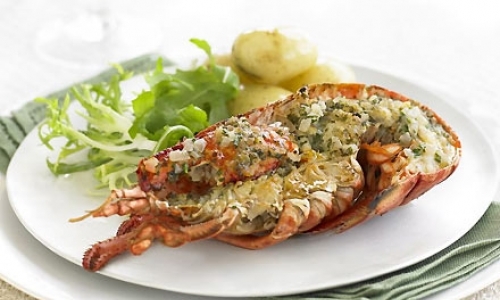 Ingredients
Lobster Tail             1 No
Cooking Cream       200 ml
Garlic                      3 cloves
Dijon Mustard        1 tsp
Chopped Chives     1 tsp
Shallots                  1 no
Gruyere cheese       50 Gms (Grated)
Fish Stock              100 ml
Salt &White Pepper Powder
Method:
1.       Cut open in half the lobster tail vertically. Remove the lobster meat and keep separate.
2.       Wash the tail shell, and in boiling water, blanch it, remove and place in ice water.
3.       Take the fish stock and the cooking cream and reduce both in pan separately.
4.       Cut small pieces of lobster tail meat. In a pan, heat oil. Add in the lobster meat and sauté.
5.       Add in the fine chopped shallots, garlic, mustard and sauté for few minutes. Now add the fish stock and cream. Reduce till semi dry and lobster is cooked.
6.       Take the lobster tail shell, place in the lobster meat add chopped chives and grated cheese.
7.       Gratinate for colour and serve with a dash of lemon.
Notes : Béchamel sauce is also very effective in place of cooking cream.
gratinate is flashing the food under salamander or using a blow torch (flame to give it colour). At home, you can gratinate in a preheated oven at very high temperate for about 2 minutes.