We all love cheese – of any type, and in any form. At Cukzy, we try to satisfy the appetite of cheese lovers with different cheesy recipes – from cheese souffle, to cheese fritters, to baked feta. I love munching over mozzarella sticks in an evening get-together with friends, and I'm sure a lot of kids love that too! Here is a deliciously simple recipe for your weekend evenings, or to start a dinner party. Well, say cheese! 🙂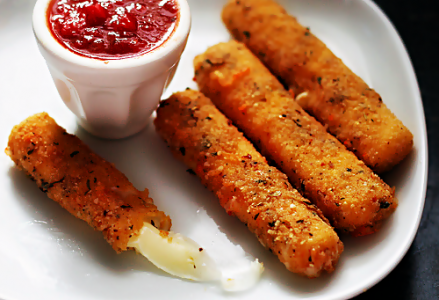 Ingredients
For the sticks:
Mozzarella block 500 gms
Flour
Egg liquid of 4 eggs (can be replaced with flour batter)
Bread crumbs
For the dressing:
Honey 100 ml
Dijon mustard paste 30 ml
Salt
Pepper
Method
Dressing :
In a mixing bowl. Add honey, mustard salt and pepper and whisk.
Mozzarella stick :
1. Cut battons (fish finger size) of cheese
2. Dust with flour, dip in seasoned egg liquid and coat with bread crumbs. If you want to omit eggs, make liquid batter of flour and water and coat with bread crumbs.
3. Deep fry and serve hot with chilled honey mustard dip.
Mango salsa or Marinara sauce also serves well with it.