Here is a healthy and easy version of vegetable lasagna by our chef! This lasagna recipe does not require lasagna sheets nor does it require any baking. It is a perfect vegetarian lasagna recipe to present to your guests as starters to your meal. Try lasagna Chef style!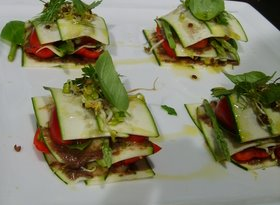 Ingredients:
1 small zucchini
1 red and 1 yellow bell pepper
4 green asparagus
10 cherry tomatoes
4 tablespoons olive oil
10 g fresh zatar
1 teaspoon capers in oil
1 teaspoon green olives, chopped
1 garlic clove
Salt and pepper
Basil, chervil or rocket for garnish
Method:
1. Slice the zucchini lengthwise into thin sheets.
2. Use a peeler to slice similar thin sheets off the bell peppers.
3. Peel the lower 1/3 of the green asparagus. Cut the asparagus lengthwise into halves. Cut the cherry tomatoes into halves.
4. Using a small blender, mix the garlic, olives, capers, zatar and olive oil to a paste. Season it with salt and pepper.
5. Spread the paste on the zucchini sheets and on the bell pepper sheets. Build layers of the vegetables to a lasagna style presentation, and top it with basil or other herbs for garnish.
Your vegetable lasagne is now ready to serve. Serve immediately.
Note: If you don't have zatar, you can blend together dried sesame seeds, sumac, thyme, oregano, and a pinch of salt. Alternatively, you can use basil pesto sauce made by blending basil leaves, parmesan, pine nuts, garlic, and olive oil.