Dahi kadhi is one of my favorite vegetarian dishes. Once I'm done enjoying kadhi-chaawal, I pour some in a bowl and have it like soup. A thumb rule for preparing kadhi is to stir it constantly till it reaches the boiling point. If you leave it, the yogurt will curdle and the flour will form lumps. Also, never pour yogurt mixture into a hot vessel. You can prepare a variety of pakoras, although the most common that goes with kadhi are pakoras made with onions. I've noticed some recipes call for sour yogurt, which sounds interesting although I haven't tried it. Maybe someday. Till then, here is my home's tradition Dahi ki Kadhi with Pakoras.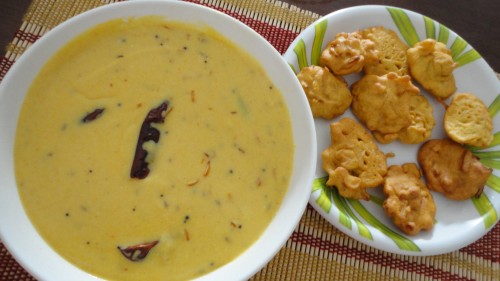 Ingredients:
For Kadhi
1/2 kg yogurt (2 – 2 1/2 cup)

6 tbsp besan (chickpea flour/gram flour)
1 tsp turmeric powder
6 cups water
1 tsp red chilli powder
1 1/2 tsp salt
For the tadka (tempering):
3 tbsp oil

2 tbsp chopped onion
1 tsp cumin seeds
1 tsp mustard seeds
2 dried red chillies, broken into half
2 tbsp chopped garlic
6 to 8 curry leaves
For the Pakoras:
1 cup gram flour (besan)

1/2 tsp red chilli powder

1 tsp coriander powder
1/2 tsp salt
1/2 tsp cumin seeds

1 cup sliced onions
Oil – for deep frying

Water
Method: 
1. Beat the yogurt. Add the besan and 1 cup of water. Whisk well so that no lumps remain. 
2. Pour the yogurt mixture in a heavy bottom vessel and add 5 cups of water. 
3. Add the seasoning – salt, red chili powder, and turmeric powder.
4. Place the vessel on the stove on medium heat. Keep stirring the karhi till it comes to a boil. If you don't stir continuously, the yogurt will curdle.
5. Once the kadhi has boiled, stop stirring and let it cook on low flame for about 10 -15 minutes. If you can smell the rawness of the besan, let it cook for another 5 minutes. You can add half a cup of water if the kadhi has become lumpy. Once done, turn off the flame and keep aside.
Tempering/ Tadka:
1. Heat oil in a frying pan. Add chopped onions, chopped garlic. Saute till onions turn pink.

2. Add curry leaves, whole red chillies, cumin seeds, and mustard seeds. Saute on low heat for about 2-3 minutes.

3. Heat the kadhi and pour the hot tadka on the kadhi and cover. Allow to simmer for 5 minutes. Add the pakoras to the kadhi and mix. 

Pakoras:

1. Mix besan and all the spices in a bowl. Gradually add water to make a thick paste. 

2. Add the sliced onions and mix well so that the onion slices are well-coated. You can replace the onions with whole or chopped spinach, sliced/grated potatoes, or large green chilli peppers.

3. Heat oil for deep frying. Carefully, drop in spoons-full of the batter into the oil. Fry till golden brown. Drain on kitchen towels. Allow the pakoras to cool down before adding them to the karhi. If you add hot pakoras to the kadhi, the pakoras will develop a lump in the center.

Serve with rice. 🙂