Here is one of the simple fish fillet recipes by my mother-in-law. We use kingfish, also called the king mackerel, or seer fish (surmai) for this recipe, since the masala goes very well with fillets. This is a perfect recipe if you are trying your hands on fish for the first time. Just grind a few ingredients to a paste, marinate the fish fillets, and shallow fry.
Enjoy!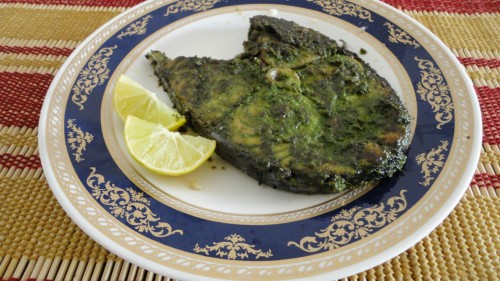 Ingredients:
500 grams seer fish fillets
Grind to paste:
1/2 bunch coriander leaves, washed and drained
10 to 12 garlic cloves
3 to 4 green chillies
1 tsp black peppercorns
half bunch coriander
1 tsp garam masala powder
Salt
1 tsp lemon juice
Method:
1. Marinate the fish in the  ground masala for half an hour to one hour.
2. Shallow fry the fish till crisp.