Kadhai kheema is a zesty recipe with minced meat – an easy-to-cook ingredient. The flavors of kadhai kheema blend in well with the meat without any additional water. The green chillies and coriander give the dish the unique aroma it is identified with. Here is an easy kadhai kheema recipe for all Cukzy meat lovers.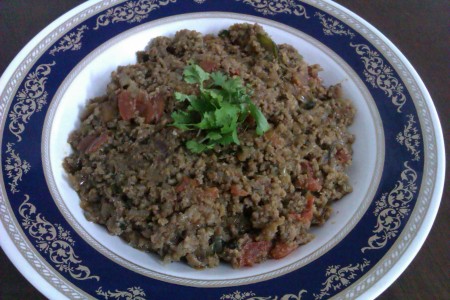 Ingredients:
250 grams kheema (minced meat)
1 large onion, finely chopped
1 medium sized tomato, chopped into chunks
1 tsp ginger garlic paste
1/2 tsp garam masala powder
1 tsp coriander powder
1 tsp red chilli powder
Hint of turmeric
2 tsp coriander leaves, chopped
2 long green chillies, slit length-wise
4 tbsp oil
Method:
1. Heat the oil in a non-stick kadhai. When warm, add the chopped onions and fry till golden brown.
2. Now, add the ginger garlic paste and simmer. Sprinkle in a little water to prevent burning of the paste.
3. Add the dry powdered spices and sprinkle water again. Stir it well and then add the tomatoes. Allow tomatoes to tenderize.
4. Once the tomatoes are tender, add the mince meat. Allow to cook on low flame, stirring occasionally. You wouldn't need to add any water.
5. Add the chopped coriander leaves and green chillies once the meat has begun to cook. Stir and allow to cook for at least 20 minutes.
Your Kadhai Kheema is ready to serve.