Haleem is the first dish we are reminded of when we speak of Ramadan. And Hyderabadi haleem recipe is what we frantically look for! Haleem is considered to be a healthy inclusion during Ramadan as the dish is a blend of various lentils and meat. making it a rich source of fibre and proteins. Haleem is preferably made with beef, but mutton can also be used. Honestly, haleem is not an easy dish to prepare – every haleem recipe will call for time and effort. Nevertheless, the result is a sumptuous, delicious meal. Haleem is prepared in different ways in different regions – with the Hyderabadi and Pakistani haleem winning the crown. Here is the hyderabadi haleem recipe. Have fun!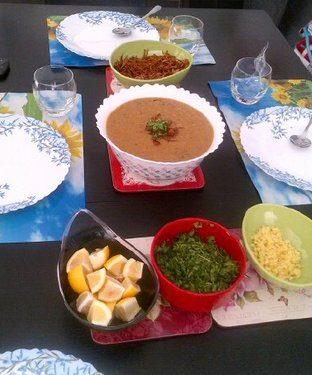 Ingredients:
For the beef/mutton:
1kg boneless lamb
1/2 tbsp  of ginger- garlic paste
a pinch of turmeric powder
1/2 tsp of salt
1/2 tsp garam masala powder
1 tsp of red chili powder
Mix all the above ingredients and pressure cook until 3 – 4 whistles, then simmer for another 15 minutes. Shred and keep aside
For the wheat and lentils:
3 cups broken wheat
1 tbsp ginger garlic paste
1 cup urad dal
1 cup chana dal
1/4 tsp turmeric powder
2-3 green chilies
some peppercorns.
1. Soak the wheat and lentils overnight for best results. If you're not able to do an overnight soak, you can soak for about 2 to 3 hours.
2. Boil it along with the other ingredients in 8 to 10 cups of water. Cook till completely done and the water is absorbed. Blend this mixture for a few seconds.
For the korma:
2 cups beaten curd
1/2 cup cashew nuts
2 – 3 medium sized onions crispy fried
2-3 cloves and cardamom
1 inch piece of cinnamon stick
1/2 cup heated ghee
a cup of chopped, fresh coriander leaves
some fresh mint leaves
2-3 green chilies
2-3 tbsp oil
1. In a vessel, heat the oil. Add whole spices, the shredded meat, the green chillies,and half cup of fresh coriander. Sauté for 2-3 minutes.
2. Add rest of the curd and sauté for another 15 minutes. Add 3 cups of water and bring to a boil.
3. To this, add the blended wheat mixture, little at a time, along with the ghee. Mix thoroughly. Smmer and cook on low flame for 20 – 30 minutes.
Serve hot, with fried onions, chopped ginger roots, lemon, and chopped coriander for garnish.