I first had tuna fish cakes when my Dad made it. They were undoubtedly delicious and one of those that you can just go on eating. I tried my hands on it a couple of days back and well – my folks loved it too! So here's is the tuna fish cake recipe for everyone at Cukzy!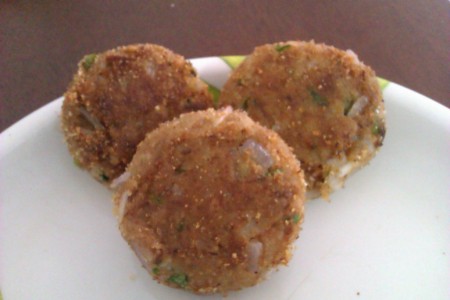 Ingredients:
1 can tuna (preferably tuna in water, not oil)
1 medium sized potato, boiled and mashed
1/2 cup coriander leaves
1-2 green chillies, slit
1 small onion, finely chopped
1 tsp coriander powder
1 tsp red chilli powder
1/2 tsp garam masala powder
Salt to taste
1 slice of white sandwich bread
2 tbsp oil
3 tbsp bread crumbs (toast white bread and grind in a mixer)
Method:
1. Empty the tuna can into a strainer to drain out the water content.
2. In a bowl, add the mashed potatoes, onions, coriander leaves, and green chillies. Mix well.
3. Add the strained tuna flakes to the potato mixture. Add in the powdered spices and salt. Mix.
4. In another bowl, add a cup of water and dip the slice of bread. Lightly squeeze out the water from the bread and add to the fish and potatoes. The bread helps in binding the fish cakes, especially if the water has not drained out from the fish.
5. Make small round patties.
6. Roll in bread crumbs and shallow fry on a non stick pan over medium flame till they are golden brown.
Serve.