Strawberry yogurt cake is a heavenly combination of strawberries and yogurt, especially during summers. Here is an eggless strawberry yogurt cake recipe – a perfect take on baking during the summer!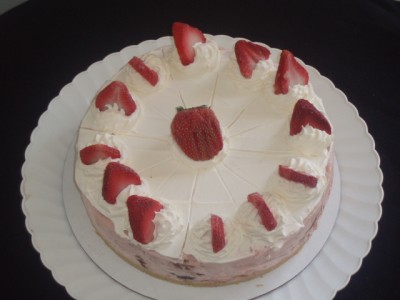 Ingredients:
1 packet digestive/marie biscuits
½ kg strawberry flavored yogurt
1 pack of canned strawberries
2 packets of fresh cream
3 tbsp gelatin powder mixed in half a cup of lukewarm water
½ cup sugar
50 gm or 2 tbsp butter
1 tsp oil for greasing
1 tbsp gelatin powder
Method:
1. Powder the biscuits in a grinder. In a pan melt the butter and add the crushed biscuits. Stir.
2. Grease the dish/ mould with oil. Set a layer of the biscuit powder. Lightly push them downwards, so that they stick to the base. Put the dish in the freezer.
3. Now, empty the yogurt in a bowl and place the bowl over a block of ice. Add the cream. Beat it well.
4. Add in the sugar, gelatin mixture and beat till the texture is creamy.
5. Remove the dish from the freezer and pour the yogurt mixture over the layer of biscuits. Put it in the fridge (not freezer) to set for 4 to 5 hours.
6. Just before serving, pour the juice from the strawberry tin in a pan. Add 2 tbsp sugar to it and cook for 2 minutes, stirring continuously until it becomes thick. Take pan off the flame.
7. Cut the strawberries in halves and add it to the sugar syrup mixture. Stir.
8. Now, add in 1 tbsp of gelatin powder and cool it over a tray of ice. Keep stirring continuously.
When serving, pour the strawberry mixture on the cake. Your strawberry yogurt cake is now ready to serve!