I don't if I've had this dish anywhere but I testify that Mutton Lababdar lives up to its name. Lababdar (apparently) means "a strong desire to indulge". I admit that the recipe is extensive and calls for every possible ingredient in the kitchen but cook this 'indulgence' with love and you wouldn't be tired a bit. You can make it with chicken as well. In fact, I've even come across a paneer version which I will try soon.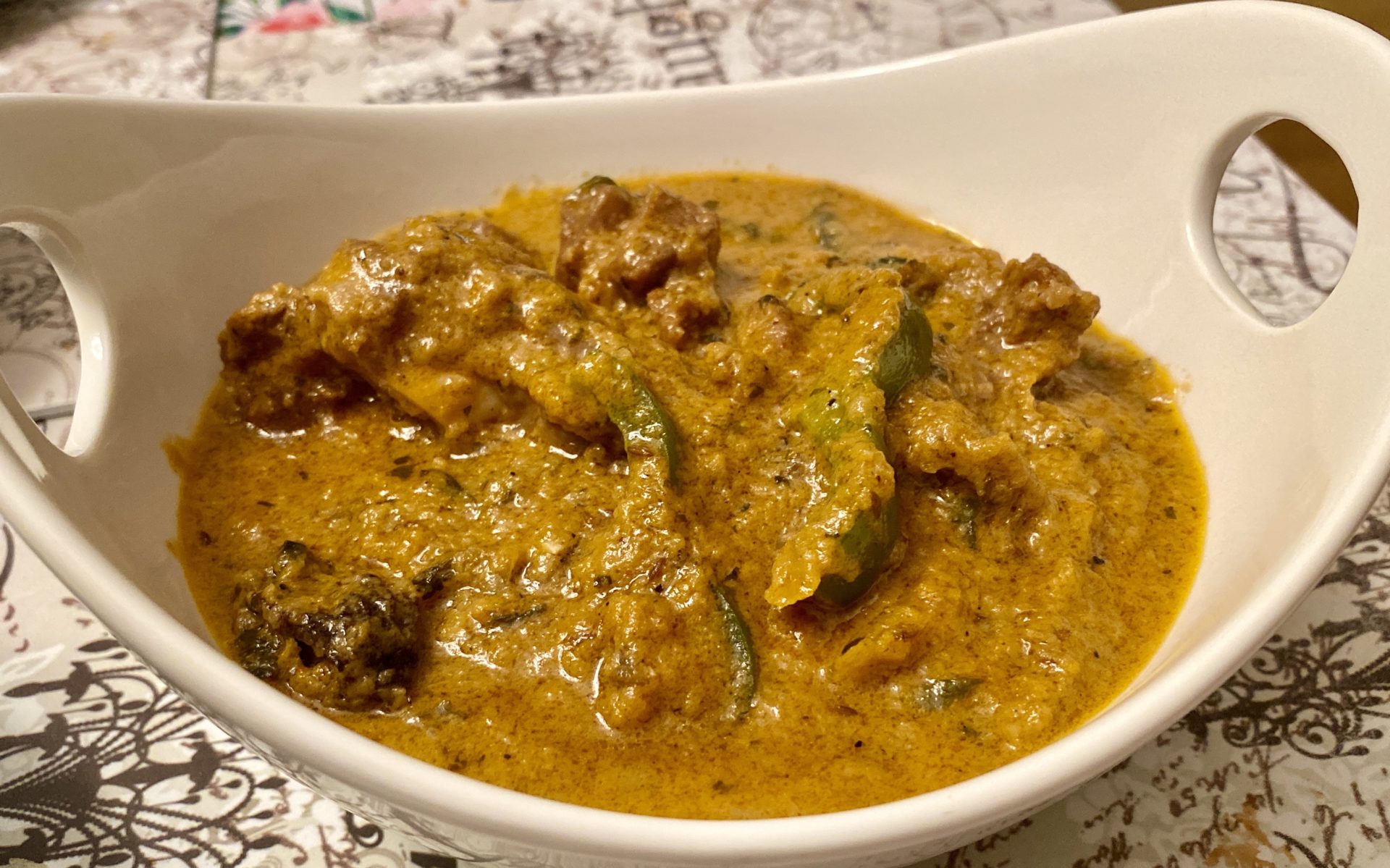 Ingredients:

500 grams mutton
1 big onion, ground
1 capsicum, sliced
1-2 tbsp butter
1/4 cup oil
1 1/2 tbsp ginger-garlic paste
1 tsp chopped green chillies
1/2 tsp garam masala
1/2 tsp black pepper powder
1 tsp red chilli powder
1 bay lead
1/2 tsp mace powder
1/2 cup cream
1/2 cup tomato paste
1/2 tsp kasoori methi (dried fenugreek seeds)
6 black peppercorns
1/2 tsp cumin seeds
4 cloves
2 black cardamoms
3 green cardamoms
1 inch cinnamon stick

Method:
1. Heat oil. Add the whole peppercorns, cloves, bay leaf, cinnamon, cumin seeds, black cardamoms, green cardamoms, ground onion, and ginger-garlic paste. Sauteé on medium to high flame till the onions have turned light golden and the raw smell goes away.
2. Once the onions are done, add the mutton and mix well. Sauteé on high flame for 5 minutes. Add 3 cups of water, mix, and bring to a boil. Once the water starts boiling, reduce heat to low, cover, and cook the mutton till well-done.
3. When the mutton is done and oil has surfaced, add the cream stirring constantly.
4. Add the butter and the capsicums. Mix everything well. Add the green chillies and garam masala powder. Cover and allow to simmer for 10-15 minutes.

Serve it with naans.