Mutton Korma is a delicious variation mutton curry. Mutton Kurma is a must make dish in Pakistan. Moreover, this is a mutton curry that useless boneless meat. The meat is extremely tender and can be eaten without a mess. While the traditional korma recipes demand quite an effort (the results are obviously worth it!), this korma recipe is simple. Mutton kurma tastes best with plain rice or tandoori naan.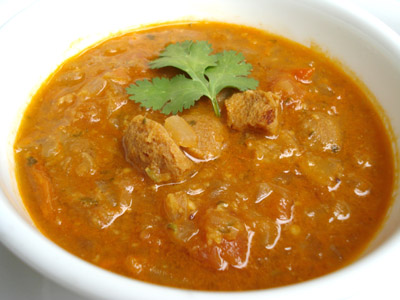 Ingredients:
500gm boneless mutton marinated in turmeric, salt and pepper. (for 1 or 2 hours)
½ tsp turmeric
½ cup yogurt beaten
Salt and pepper to taste
Water
2 – 3 tbsp oil
2 tbsp chopped coriander
To grind to a paste:
1 onion
1 inch piece of ginger
2 cloves garlic
2 tsp coriander seeds
1 tsp cumin seeds
3 Kashmiri red chilies
½ tsp poppy seeds
1 tsp garam masala
Method:
Heat oil and add the ground paste. Fry until oil separates.
Add the beaten curd and the marinated mutton along with the marinade.  Add salt and pepper as well.
Fry until the mutton is brown all over. Add half cup of water and cook till the mutton is tender.
Serve, garnished with coriander, along with rice or chapatti.