Like everything else in the kitchen, our souffle recipes should also enjoy a dash of mango to it. Mango souffle recipe is a beautiful, and cooling pick for summer.  Souffle in French means to 'puff up' since most souffles are baked. Mango souffle, however, is a no-bake version and is refrigerated. Here is another mango dessert recipe for you to enjoy this season!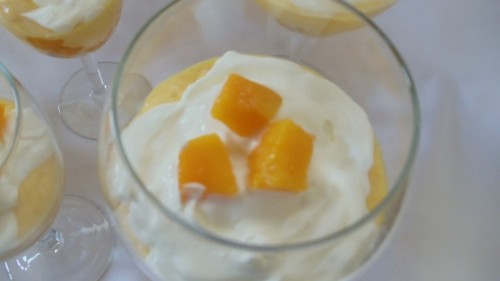 Ingredients:
1/2 cup sugar
3 eggs
3/4 cup fresh cream
2 tsp gelatine
1/2 cup mango slices, sliced into small pieces
1/2 cup mango puree or mango pulp
Method:
1. Soak gelatin in 1/4 cup of water.
2. In a bowl, add two eggs and one egg yolk, mango puree and sugar and cook on a double boiler till the sugar dissolves.
3. Dissolve soaked gelatin in hot water and add to the above mixture. Cool.
4. Beat the cream and add to the mixture. Mix well. Add in a handful of mango cubes.
5. Pour this into moulds or souffle glasses. Top with cream and mango slices or cubes.
Set your mango souffle in the freezer for about two hours before serving.