Prawns and rice can be a great combination. Prawn Biryani is one delicious meal to make a day special. It is one of those dishes enjoyed by the entire family together, especially if you have prawn fans at home. Prawns biryani is originally a Malabar dish that became a famous part of the Mughlai cuisine. At first, this recipe may seem lengthy, but the step-by-step explanation will make it easier.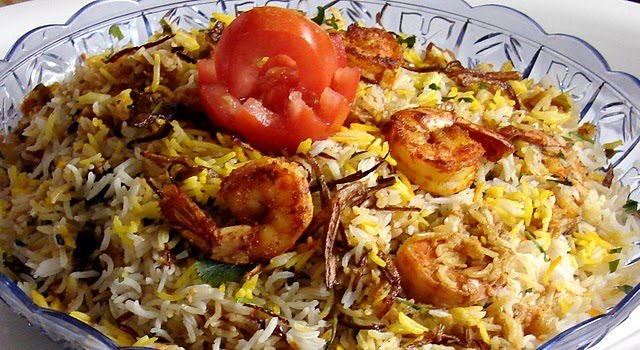 Ingredients:
500 g Basmati rice
500 g large prawns shelled and deveined
A cup of chopped coriander leaves
2 – 3 whole green chilies
4 large onions sliced thinly (divided into 3 equal portions)
2 large tomatoes chopped finely
2 large potatoes cut into 4 pieces and fried.
2 tomatoes sliced into rings.
Roast and grind to powder:
4 tbsp coriander seeds
2 tbsp cumin seeds
1 tbsp khus khus
2″ piece of cinnamon
5 cloves
5 pods green cardamom
10-12 black peppercorns
2 dry red chilies
Grind to paste
2 green chilies
1/2 cup fresh coriander leaves
1/2 cup fresh mint leaves
Marinate prawns with the following ingredients for 10 to 15 minutes.
1 cup yogurt
Juice of 1 lime
1/2 tsp turmeric powder
2 tbsp garlic paste
1 tbsp ginger paste
Salt to taste
To garnish:
1 tbsp saffron strands, soaked in 3 tbsp warm milk
3-4 tbsp fresh chopped coriander
4-5 tbsp cooking oil
Method:
Wash the rice and soak in water for 30 minutes. Boil the rice, add the chopped coriander leaves and whole green chilies. Cook till rice is almost done. Drain the water and keep aside to cool.
Heat cooking oil in a deep pan and fry 1 of the 3 portions of sliced onions till they are crispy and golden. When done, drain and remove from the oil and keep aside on paper towels.
In the same oil, add the remaining sliced onions and fry till soft. Then add the tomatoes and fry till they are soft, and oil separates.
Add in the powdered masala along with the paste. Cook till the oil begins to separate from the masala.
Now add the prawns along with its marinade. Stir and cook till the prawns are done. Do not overcook. Season with salt if required and remove from fire.
In a large vessel, add 2 tbsp oil and set a thin layer of rice. Use the entire prawns masala to set a layer on the rice.
Pour about 1/4 glass of water in the empty pan of the prawn masala – just to gather the leftover. Pour this over the rice and prawn masala layer.
Spread in the sliced tomato rings and the fried potatoes. Add the remaining rice and pour the saffron milk over it. Also pour 2 tbsp of hot oil over it. Sprinkle with chopped coriander.
Cover the lid tightly and let the rice cook completely on low flame.
Your prawn biryani is ready to serve. Garnish with crispy onions and serve with raita.