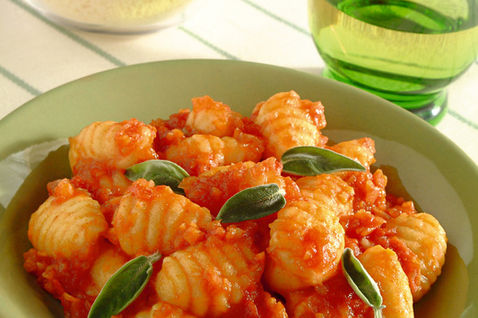 Gnocchi are traditional Italian pasta, originating from the Roman era. They are soft dumplings used in soups or as pasta and can be eaten as main course or an appetizer depending on the way they are made. Here is a potato gnocchi recipe with an easy home made tomato sauce for you. Bring the traditional Italian flavor to your kitchen. 🙂
Ingredients:
For gnocchi:
800 g potatoes
200 to 300 gm Plain flour (however, keep some extra flour for the work surface)
1 Egg (medium size)
Salt for the boiling water
Tomato sauce as required (recipe mentioned below)
Freshly grated Parmesan cheese
For the Tomato sauce
½ Kg Tomatoes ( boiled, peeled, deseeded and finely chopped)
40 g Onion (finely chopped)
40 ml olive oil
½ tsp Sugar
1 tbsp Tomato purée (optional)
Few basil leaves
Salt for seasoning
Method:
For the Tomato sauce:
Heat the olive oil in a saucepan, add the onions caramelize the onions by cooking them for 3 to 4 minutes.
Add the tomatoes. Stir on medium heat for 2 minutes and then cover and cook for 10 minutes.
Add in the sugar and puree, cook uncovered for another 30 minutes or until you get the right consistency, which is medium thick.
A few minutes before setting it off the flame, add in the basil leaves and stir.
Add a dash of olive oil and use it for the gnocchi or any other dish. If planning to store, don't add olive oil; add it before using it, while re-warming.
For the gnocchi:
Boil the potatoes in salt water, peel and mash them while they are hot. After mashing let them stand for 10 minutes.
Spread some flour on the work surface, where you will knead. Put all the mashed potatoes onto the surface add half the flour over it and mix with hand.
In a separate bowl whisk the egg and use 2 tsp at a time on the mixture to make the dough of the right consistency. Final dough should not be sticky, but smooth.
Make small balls with dough (oval shaped).
You can roll them on a fork to make the grooves so that the sauce sticks to them.
Take water in a large pan add salt and bring it to boil. Then add in the gnocchi balls. Once they start floating, it means they are cooked. Let them float for 30 seconds or so.
Take the out and add them to the tomato sauce on the pan. Gently toss the gnocchi for another 30 to 40 seconds.
Garnish with basil leaves and grated parmesan cheese before serving.