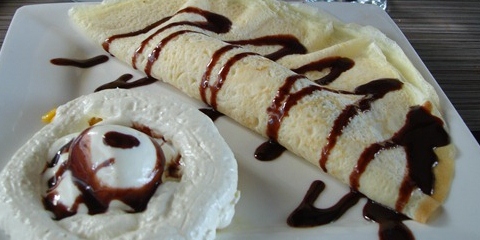 Crepes, are a thinner version of pancakes and also a famous french breakfast. Recipes for crepes include savory fillings like fruits, cheese, or eggs and can be served as lunch or dinner. For the mango season, you have to give your crepes a mango twist. Mango crepes are a wonderful way to start the day. An easy mango recipe, these are delight with children!
Ingredients:
For Crepes:
2 cups all-purpose flour
1 ½ tbsp white sugar
½ tsp baking powder
½ tsp salt
2 cups milk
30 g butter, melted
½ tsp vanilla essence
2 eggs
Oil for frying
For filling:
1 large mango, chopped
Sprig of mint, chopped
Some olive oil like a teaspoon or two
Lime juice, to taste
Sugar to taste
A scoop of cream (optional)
Method:
Mix in the flour, sugar, baking powder and salt. Separately mix the milk, butter vanilla essence and eggs. In the milk mixture add the flour mixture and make a smooth batter, without lumps.
Heat a pan over medium heat. Pour some oil on it enough to grease the pan. Now, pour the batter for one medium sized crepe. It should be thin like a dosa.
Cook the crepe till the bottom is light brown. Flip and cook the other side. Repeat and make the crepes for all of the batter.
For the filling: Mix mangoes, mint, olive oil and sugar. Place a spoonful in the centre of the crepe or on one side and fold.
Your mango crepes are now ready to indulge in! Have fun!