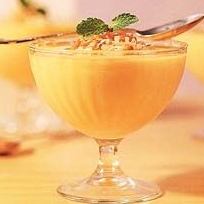 Trying out different mango recipes is the best way to celebrate the mango season. During the mango season any party without a mango dessert is incomplete. Mango recipes are not only limited to desserts like the spicy chicken and mango rice. Here is an easy mango mousse recipe with whipped cream which gives the mousse a rich taste and texture and is also very easy to make.
Ingredients
3 cups chopped ripe fresh mango or 2 cups mango puree.
1 can (2 cups) of Sweetened Condensed Milk, chilled.
1 cup whipped cream.
2 tsp of grated lime peel.
Method:
In a blender, process the mango until it makes a smooth puree, remove ¼ cup of the puree and add the condensed milk to the remaining and blend again.
Take ½ cup of the whipped cream in a bowl and add the mango mixture over it and fold, until combined.
Fill the dessert dishes with the mousse top it with 1 tbsp of whipped cream and 1 tsp of the mango puree.
Sprinkle some lemon zest over it and Chill for at least an hour before serving.
Have fun with your mango mousse. And try as many mango recipes as possible before the season is over.