When there is a need for a quick starter, there are potatoes! They are what you would call an easy starter recipe. Cut into wedges, spice them up, shallow fry and you're ready to plate! Here is a fried potato recipe with a little twist.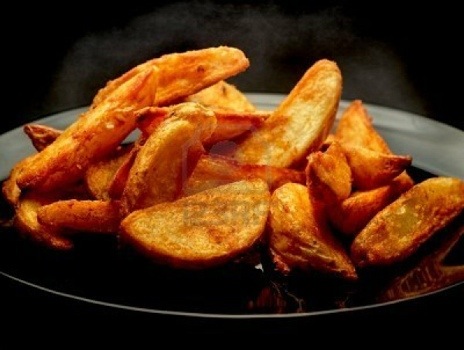 Ingredients:
2 medium-sized potatoes, cut into wedges
2 tsp cornstarch (1 tsp blended in quarter cup water)
1 small onion, thinly sliced
4 cloves garlic, finely chopped
1/2 tsp red chilli flakes
1 tsp red chilli sauce
1 tsp soy sauce
1/2 tsp sugar
1 tsp vinegar
1/2 cup spring onions, roughly chopped
Method:
1. Soak potato wedges in cold water half an hour. Meanwhile, bring to boil 3 cups of water. Remove potatoes from cold water and soak in boiling water to par boil them.
2. Drain and cool the potatoes. Dust the potatoes with only two tablespoons cornstarch and coat well. Deep fry until golden brown and completely cooked. Keep aside.
3. Heat two tablespoons oil in a wok. Add red chilli flakes, sliced onion, and chopped garlic. Stir fry till onions become tender.
4. Blend the red chilli sauce in quarter cup water and add to the wok. Add soy sauce and sugar. Stir fry briefly on high flame.
5. Stir in the diluted cornstarch and vinegar. Simmer for a few minutes till sauce reduces to a thick consistency.
6. Add in the potatoes and toss. Alternatively, you can pour the sauce on the wedges or serve as a dip.
Garnish with spring onions