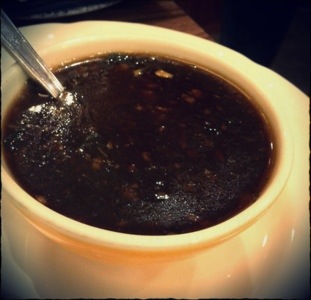 Sizzler is a perfect meal for one – chicken with vegetables minus the enemy of health – oil! Chicken sizzlers are a favourite with children, and bring a colourful variety to your dining table. Here is a chicken sizzler recipe with pepper sauce for your senses. Enjoy!
Ingredients:
2 chicken breasts marinated in salt and lime juice for 2 to 3 hours
4 cabbage or lettuce leaves
1 cup mixed vegetables boiled and drained
Salt to taste
2 cups frozen French fries
Juice of 3 limes
For the pepper sauce:
¾ tbsp freshly ground peppercorns
½ tbsp milled mustard
1 ½ tbsp finely chopped onion
½ tbsp butter
140 ml cream
50 ml chicken stock
Salt to taste
Method:
Grill the chicken on an electric barbecue/grill.
Boil the vegetables in salt water and keep aside.
Fry the French fries in hot oil and keep aside
For the pepper sauce:
Mix in the stock, cream and mustard in a bowl and keep aside.
Melt the butter in a pan and sauté the onions until transparent.
Add peppercorns and pour the stock mixture over the onions
Bring to boil, stirring constantly. Add salt to taste.
To Serve:
Heat the sizzler plates on high flame. Remove when extremely hot.
Line the plates with 2 cabbage or lettuce leaves (horizontally) on each of the extreme ends of the plate.
Place the chicken over it and arrange the french fries and vegetables next to the chicken
Pour 6 to 7 tbsp of the pepper sauce and serve the dish sizzling hot.