Shish Tawook or Shish Taouk is a popular dish of Turkish and Arabic cuisine. Over time, Shish Tawook has gained popularity in other regions like India and Pakistan. As is in most grill and barbecue recipes, marination is important to make shish taouk.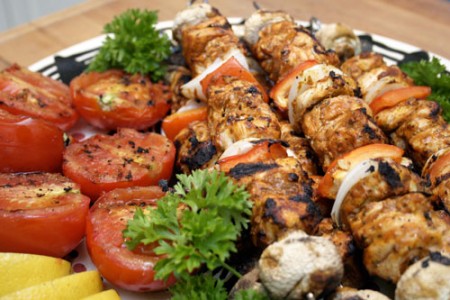 Ingredients:
4 boneless skinless chicken breasts (about 800 g/ 1.75 lbs)
1/4 cup yogurt
3 tbsp olive oil
2 tbsp tomato paste
4 cloves garlic, finely chopped
1 lemon (juice only)
1 tbsp sweet paprika
3/4 tsp dried thyme
1/2 tsp ground cumin
1/4 tsp ground allspice *
1 tsp salt + 1/2 tsp ground pepper, or to taste
For skewers (optional)
1 medium red bell pepper
a dozen or so white mushrooms
1/2 large sweet white onion
2 medium sized tomatoes, deseeded and cut into chunks
Method
1. In a bowl, add the chopped garlic, yogurt, tomato paste, olive oil, lemon juice, dried spices, salt, and pepper. Mix well. Marinate the chicken with this mixture and refrigerate for 2 – 4 hours.
2. Start threading the vegetables first. Start with mushroom, followed by two chunks of chicken, onion, bell pepper, chicken again, and tomato.
3. Grill the chicken skewers over for about 5-7 minutes per side, flipping only once. You'll see beautiful char marks on the chicken.
Notes:
1. The least common ingredient on this list is allspice, I would think.  If you don't have ground allspice, you could substitute 1/4 tsp cinnamon powder and a pinch of ground cloves.
2. Avoid threading single chicken pieces between vegetables. Threading 2-3 chicken chunks locks in the moisture and makes the meat more succulent.
3. Do not marinate the chicken for too long. This can make the meat very tender and the chicken will lose its texture.
4. Cut the chicken into equal-sized chunks. Different sizes will result in some chunks to overcook or undercook.