Pasta at home has always been the simplest recipes to make. Pasta dishes have been experimented with a variety of sauces and ingredients. Here is a healthy pasta dish that you would love to cook, and your family would love to eat!
Ingredients:
1 onion, chopped
2 carrots, chopped
1 leek, chopped
2 bell peppers, chopped
3 tomatoes, chopped
caster sugar, 1 tbsp
Vinegar, 1 tbsp
Shell/ Penne pasta, 300 grams
Olive oil, 1 tbsp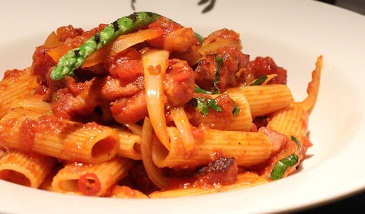 Method:
1. Cook the pasta according to the packet instructions.
2. In a non-stick wok, heat the oil and add the onions, carrots, and leek until tender. Saute for 20 minutes.
3. Add the bell peppers and cook for about ten minutes.
4. Now, add in the tomatoes, sugar, and vinegar. Simmer for half an hour.
5. Once the mixture appears to be like a paste, cool it and blend it using a hand blender. The sauce should have a smooth and thick consistency.
6. Add salt and toss it back into the wok. Drain the pasta and add to the sauce. Mix gently.
Your pasta with tomato sauce is ready. Top with chopped coriander leaves and grated cheese before serving.