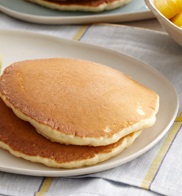 Pancakes are ideally eaten for breakfast in the western countries, but they can be eaten at any time of the day, with a fruit or syrup. You can also make centre-filled pancakes.
Ingredients:
1 ½ cups of all purpose flour
1 ¼ cups of milk
3 ½ tsp of baking powder
1 tsp salt
3 tbsp melted butter
1 tbsp white sugar
1 egg
 For filling (optional): your favorite jam or nutella
Method:
First, grind the sugar into fine powder, so that it dissolves easily. In a bowl, sift together the flour, salt, sugar and the baking powder. Make a well in the middle and pour the egg, milk and melted butter, mix well until it becomes a smooth mixture.
Heat an oiled non-stick pan over medium heat. Take a scoop of the batter and pour it in the pan. if you want to add a filling, add a spoon full of the jam or nutella and the cover it with the batter. Cook both sides until golden brown in color.