Pizzas at home have been made easy since pizza bases have been available in the market. Here is a pizza recipe from scratch by a professional chef and my friend Chef Jawad Munshi. This homemade pizza dough and homemade pizza sauce will be the soul of your pizza. Usually, mozzarella cheese is used for the topping, but the classical mix of three types of cheese in equal proportion gives the pizza a kick – mozzarella, fontal, and parmesan.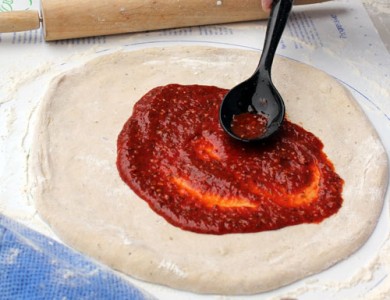 Baking time and temperature:
Preheat at 350 F degrees for 4 minutes.
Ingredients for Pizza Dough:
500 grams flour
180 ml warm water
1/2 tsp yeast
3 tbsp olive oil
1/2 tsp salt
Method:
1. Wash a mixing bowl in warm water and clean it dry. Now, pour in the warm water and dissolve the yeast. Let it rest for 5-10 minutes.
2. Now add salt and mix gently.
3. Add in the flour and olive oil. Mix well till the dough is formed.
4. Initially, the dough will be sticky. Once the pizza dough gets into form, do not knead further. Keep it at warm temperature and cover it with a cloth. Allow to rest for an hour so it can rise.
5. Clean a flat surface (your kitchen counter for instance). Place the dough on the surface and punch down the dough evenly for 5 minutes.
6. Allow it to rest for another hour and punch down the dough again. Your dough will be the size of a big plate little less than 1/4 inch thick.
7. For best results, wrap the dough in plastic and refrigerate overnight. Keep in mind that before baking the base should be at room temperature.
8. Bake using the above given temperature and time.
Ingredients for Pizza Sauce:
500 grams tomatoes, cut into chunks
50 grams onions, cut into chunks
30 grams carrots, cut into chunks
40 grams celery, cut into chunks
10-15 fresh basil leaves
4-8 garlic cloves, crushed
5 grams oregano
50 grams brown sugar
Salt to taste
White pepper powder
15 ml olive oil
Method:
1. Heat oil in a pan. Add in the brown sugar and caramelize it.
2. Add the garlic and all vegetables, except tomatoes. Sauteé till vegetables have caramelized.
3. Add in the tomatoes and cook on low flame till tomatoes and vegetables are tender.
4. Add the basil leaves and oregano. Cook for few minutes and adjust the seasoning.
5. Remove from fire and blend it with a hand blender.
6. Cool and spread over cooked pizza base.
Notes:
1. The skin of tomatoes should be removed.
2. When caramelizing the sugar, do not put in any water or chilled vegetables since this can cause the sugar to form solid lumps.