Chef Jawad introduces us to a unique way with fruits. Fruits are generally used in desserts. But here is a recipe where fruits are a stuffing for spring rolls – Fruit Spring Rolls. I was a little surprised when Jawad mailed me this recipe 🙂 . But then, that's what he always does as the star Chef on Cukzy. 😀
Fruit spring rolls use soft, juicy, and sweet tangy fruits like berries, oranges, sweet lime, grapes, kiwis and so on. You can balance the flavours according to your taste. Our Chef recommends a cheese sauce dipping to go along with the spring rolls.
Its up to you decide which course of meal this fits in. In my opinion, its perfect as a 'fruity' snack or starter.
Have fun with fruits!!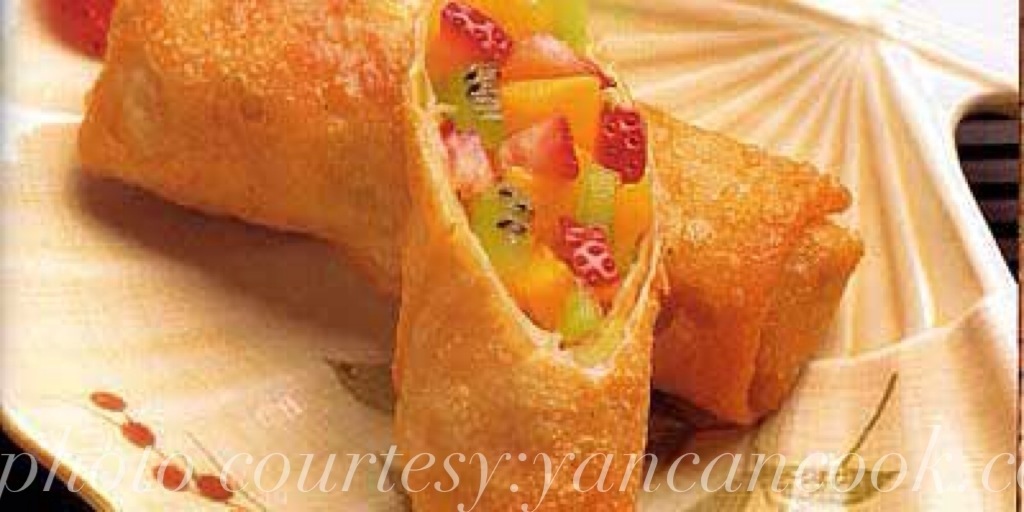 Ingredients:
For the spring rolls:
1 cup strawberry
1 cup raspberry
1/2 cup of red/black and white/green grapes
1 plum/ kiwi/ orange segments
Spring roll sheets
For the sauce:
100 grams of Any cheese (semi soft cheese)
100 ml cream
Note:
1. You can use any berries or any juicy fruits you like. You can also alter the quantity of different fruits according to your preference.
2. If you'd like, you can also add small cubes of cheese in the spring roll along with the fruits.
Method:
1. Cut small cubes of all the berries and fruits.
2. Place about 1/2 tablespoon of the mixed fruits on spring roll sheet. Roll it inwards and fold the sides into the roll. For the sheet to bind or seal, u can use egg yolk or flour and water paste.
3. Fry in hot oil till crispy.
The Cheese Sauce :
In a double boiler, mix equal quantity of cooking cream and cheese. Whisk well.