When we hear Morocco, the first thing that comes to our minds is olive and couscous. Moroccan recipes use spices that are also used in many Indian recipes – cinnamon, cumin, paprika, turmeric, and ginger. Some of the famous Moroccan dishes are tagine, tanjia, and harira. I've uploaded the harira recipe on Cukzy earlier. Here is a beautiful dish from the Mediterranean region.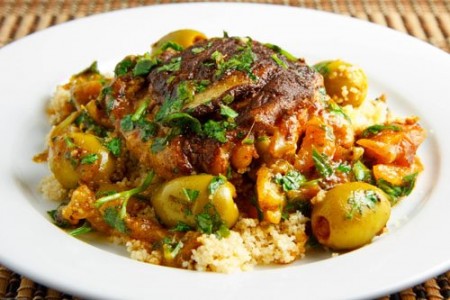 Ingredients:
1 whole chicken (cut into 8 pieces, or chicken thighs or breasts)
1 onion (sliced)
2 cloves garlic (chopped)
1 teaspoon ginger (grated)
1 teaspoon paprika
1/2 teaspoon cayenne pepper
1 teaspoon ground cumin
1/2 teaspoon turmeric
1/2 teaspoon cinnamon
1 pinch saffron
salt and pepper to taste
1 tablespoon oil
1/2 cup water (or chicken stock)
1 cup olives
1 tablespoon honey
1/4 cup parsley (chopped)
1/4 cup cilantro (chopped)
Method:
1. Mix the paprika, cayenne pepper, cumin, turmeric, cinnamon, saffron, salt and pepper and rub it into the chicken.
2. Heat the oil in a large pan. Add the chicken and brown on all sides and set aside.
3. In the same oil, add in the onion, and saute for 3 minutes. Add the garlic and ginger and saute until fragrant, about a minute.
4. Add the water and chicken. Cover and simmer for 15 minutes.
7. Add the olives and honey. Simmer covered for 25 minutes.
8. Remove from heat and mix in the parsley and cilantro.