Dal Palak is traditional to Indian vegetarian cuisine – a recipe passed on by generations. Dal Palak is a fine, nutritious, and lightly spiced combination of lentils and spinach. This kind of palak recipes retain most of nutritional value of spinach since its not fried or burdened with spices. Perfect to be on your 'Healthy Menu'.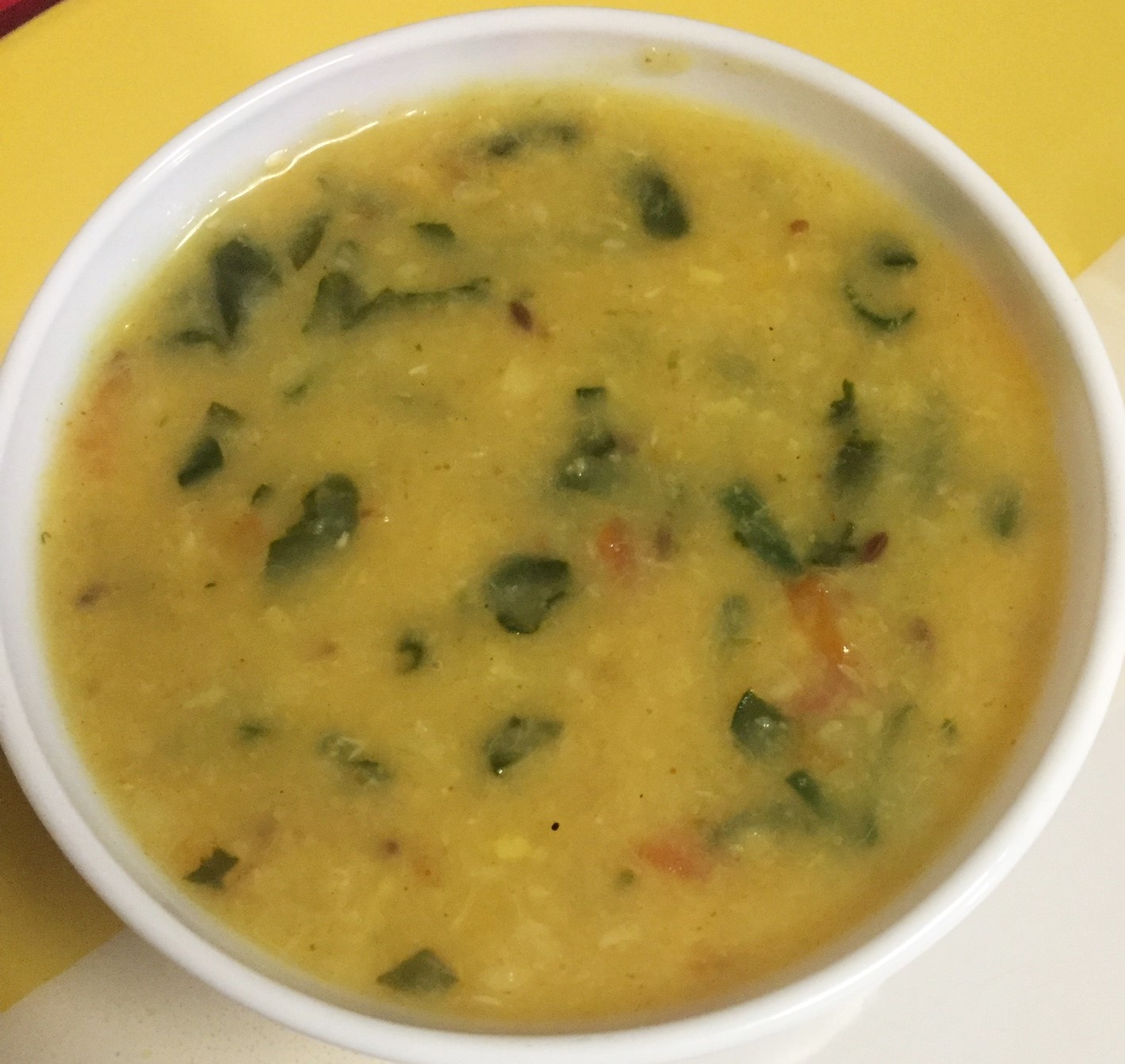 Ingredients:
1 cup yellow moong dal
250 grams / 1/2 pound fresh spinach
1 cup finely chopped onions
1/2 cup diced tomatoes
1 garlic clove, finely chopped
1/2 tsp cumin seeds
2 tsp ghee
1/2 tsp turmeric
1/2 tsp red chili powder
1/2 tsp garam masala
4 3/4 cups water
Salt to taste
Lemon Juice
Chopped coriander leaves
Method:
Cook the dal in a heavy-bottomed vessel with water, salt, and turmeric. Bring it a boil and remove the yellow froth that forms on the top. Reduce the heat and cook partially covered for about 30 minutes.
Meanwhile, cook the spinach in 1/4 cup water in a saucepan for about 5-7 minutes. Remove the spinach from the water and mash it lightly with a spoon. Add this to the cooked dal.
In a non-stick pan, heat the ghee/butter. Add the cumin seeds, onions, and garlic. Saute for 3-5 minutes so that the onions become translucent.
Now add the tomatoes and cook for 5 minutes or until the tomatoes become mushy. Add the red chili powder and garam masala powder. Add this to the dal and mix well.
If the dal seems to thick, add a little water and let it cook on medium flame for 10 minutes.
Ready to serve! A dash of lemon juice and a garnish of coriander leaves completes the dish.